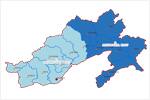 Hemant Abhishek
Nestled in the North-eastern part of the country in the lap of the Himalayas, the state of Arunachal Pradesh is experiencing heated political battle and the poll fever is further amplified as the Assembly elections happen to coincide with the Lok Sabha polls this year.
The Himalayan state sends two MPs to the Lower House of the Parliament, from the Arunachal West and the Arunachal East constituencies. Currently both the seats are held by the Congress party, but the April 9 polls may write a new chapter in the history of Arunachal's politics.
The 60-member Arunachal assembly that goes to poll alongside the two Lok Sabha seats currently constitutes of 55 Congress MLAs, three BJP members and one TMC and an Independent legislator.
The General Elections are being held in the state since 1977. The Congress party emerged victorious then and continued to be the winning party in the 1980, 1984, 1989, and 1991 Lok Sabha elections. In the 1996 polls, an Independent candidate emerged victorious, followed by the Arunachal Congress in 1998. The Congress emerged trumps in 1999, but conceded the states' Lok Sabha seats to the BJP in 2004. The electorate strength in the north-eastern state is 7,35,196.
The Arunachal East seat is represented by INC's Nining Ering while the Arunachal West seat is currently held by his party counterpart Takam Sanjoy.
Ering, who held the portfolio of Minister of State for Minority Affairs in the outgoing UPA-II government was in the eye of the storm during Baba Ramdev's anti-corruption drive in 2011 when he allegedly called the Yoga guru a 'bloody Indian dog.' After much controversy the matter was sorted when Ering reportedly apologised for his outburst and Ramdev offered him a 'rudraksha' to calm his short-temper. Ering also raised the matter of Arunachal student Nido Taniam's murder in the Parliament.
Arunachal has the distinction of setting up a polling station for only two voters at Malogaon under Hayuliang division in the newly created Anjaw district. Besides, there are eight polling stations for less than 10 voters, 20 for less than 20 voters and 105 for less than 50 electors in different areas of the largest north-eastern state. The `C Sector` polling station at Itanagar has the highest number of 1650 voters in the state having 7,53,170 electorate. In all, the state has 2,158 polling stations of which 664 have been set up in almost inaccessible areas.
It remains to be seen whether in the 2014 polls the Congress can perform a clean sweep in the `Land of the Rising Sun`.