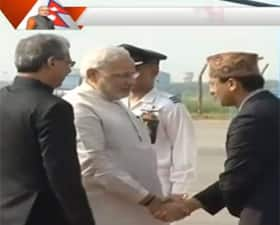 Zee Media Bureau/ Neha Attre & Sushmita Dutta
India has offered to provide 2,500 kg of Shrikhanda (Sandalwood) worth Rs 2 crore for the Pashupatinath temple. A 400-bed `dharamshala` is also being built inside the temple premises with assistance from India.
Last week, External Affairs Sushma Swaraj visited the temple. During her visit a Rs 250-million assistance packagewas announced for the preservation of the Pashupatinath temple.
As per Hindu calendar, Mondays of the month of `Shrawan` are considered auspicious, when around 300,000 people from Nepal and India visit the temple, according to authorities.
Dhime, traditional Newari drum and Bansuri, Nepali flute will also be played to welcome the distinguished guests.
As soon as Modi arrives, 108 young Bramhin students of Vedavidyashram located near the temple, will chant Vedic hymns to welcome him.
A group of 21 `Bramhins` will chant `Rudri`, a holy script, as the chief priest performs the prayer, according to Govinda Tandon, chief of the Pashupati Area Development Trust which manages the temple`s affairs.
The doors of Pashupatinath temple will open at 3:00 AM tomorrow. Modi would perform a half-an-hour special prayer at the main temple situated on the banks of river Bagmati on the outskirts of Kathmandu on Monday by giving a bath of `panchamrit` to Shiva Linga.
PM Modi will pray at the Pashupatinath temple tomorrow, and later meet Nepal President Ram Baran Yadav, who would host a dinner for him. He would also interact with leaders of the Nepalese business community.
PM Narendra Modi along with his Nepalese counterpart Sushil Koirala releases commemorative of stamps.
PM Narendra Modi arrives at a reception dinner hosted by Indian Ambassador in Nepal.
Prime Minister Narendra Modi gives an autograph to a 10-year-old Indian girl here, who is seeking to set a new world record for the maximum number of autographs from world-famous personalities.
PM gifts `Samvidhaan` - Making of the Constitution of India to the Chair of the Constituent Assembly of Nepal.

PM gifts 'Samvidhaan' - Making of the Constitution of India to the Chair of the Constituent Assembly of Nepal pic.twitter.com/CIb9YFXuED

— PIB India (@PIB_India) August 3, 2014
Prime Minister Narendra Modi concludes his speech.
I also declare a $1 billion Line of Credit to Nepal, says Modi.

Also Read:PM Modi offers $1 bn credit to Nepal

Together SAARC nations should wage a war against poverty and we should help each other in that: PM Narendra Modi
We are so close. Still it took 17 years to come. I assure you this will not happen again. I am coming back again for SAARC summit: PM Modi
It came to my mind that let`s hit Nepal. Many of you
would take offence to my use of this term but when I talk of hitting Nepal, I have three main points in mind -- (H:Highways, I:I-ways and T:Transways), says Narendra Modi.
Being your neighbour and seeing our experience as a democracy we feel happy: PM Modi
A Constitution always unites, it never divides, says PM Modi in Nepal Parliament.
Why cant Nepal be the largest exporter of herbal medicine? `Hanuman ji` came here for sanjeevani: PM Modi.
Nepal is a truly sovereign nation. It is not our job to interfere in Nepal`s internal affairs: Prime Minister Narendra Modi.
Further for Nepalese students to study in India, I hereby announce scholarship for them, says Modi.
Being your neighbour and seeing our experience as a democracy we feel happy at the direction in which you are going. Our only wish is that Nepal`s progress reaches as high as the Himalayas: Narendra Modi.
If a cold wind blows in Nepal, India feels a chill, says Modi.
All possible help will be provided to the Nepal government due to the drastic rise in the water level of the Kosi river: Modi
Nepal can free India of its darkness. But we dont want free electricity, we want to buy it: PM Modi
Just by selling power to India, Nepal can find a place in the developed countries of the world. India wants to walk shoulder-to-shoulder with you, says Narendra Modi.
We have always believed that it is not our work to interfere in what you do but to support you in the path you decide to take: Modi
Not only people of Nepal but also those who believe in the power of democracy are looking at Nepal and this Assembly, says Modi
I congratulate all those who gave the the bullet and chose the ballot in Nepal: Modi.
Invoking Sam Manekshaw, the first field marshal in the Indian Army, Modi says, "Any soldier who says I am not afraid of death would either be lying or a Gurkha."
I salute those brave hearts who laid their lives for India: Modi.
Praising the contribution of Gurkha soldiers in India`s defence, Modi says India has won no war without the sacrifices by Nepalese soldiers.
King Ashoka went in search of peace. I congratulate you all that you chose the path of "Buddha" rather than "yudh": PM Modi
Our relations with Nepal are as old as the Himalayas and the Ganga, says Narendra Modi.
There is a temple in Kashi where priest is from Nepal, & there is a temple in Nepal where priests are Indian, such is our bond: PM Modi
I began my tenure as PM in Kashi, now I stand at the feet of Pashupatinath: Narendra Modi.
Prime Minister Modi says gesture of inviting him to be first guest at the Nepalese Parliament is `respect shown to all 1.2 billion Indians`.

Years back, I came here for pilgrimage. There is a popular saying that once you visit Nepal, your entire life will be changed, Modi says

As soon as I entered the Prime Minister`s Office, I made up my mind to give Nepal the highest priority. That is why I am here. I really thank you for inviting me. I am coming back here as a good friend of Nepal, to this beautiful country: PM Modi.
PM Narendra Modi addresses Nepalese Parliament, begins address in Nepali language. It`s a land where Lord Buddha was born, this country has rich cultural heritage, says Modi.
Narendra Modi thank thousands of people who braved rains to catch a glimpse of a Indian prime minister who visited Nepal after 17 years.

Braving rain! Following speech to Parliament @PMOIndia again alights to thank 1000s who braved rains to catch glimpse pic.twitter.com/npGzadwfRJ

— Syed Akbaruddin (@MEAIndia) August 3, 2014
Modi met his Nepalese counterpart Sushil Koirala at Singha Durbar Secretariat and discussed ways to strengthen bilateral cooperation in key sectors like trade and investment, hydropower and agriculture, the PTI reported.
During a meeting with Nepal Foreign Minister Mahendra Bahadur Pandey, Modi expressed his commitment to extend all possible support for Nepal`s socio-economic development, as per IANS news report.

Modi offered condolences after a landslide killed at least eight people in Nepal.
On the first day of the visit, Modi had simple vegetarian meal comprising nan roti, dal and vegetables which was prepared by an Indian chef.

Also Read: Simple vegetarian meals for Modi in Nepal

Bharatiya Janata Party (BJP) leaders expressed confidence that relations between India and Nepal would improve after Modi`s maiden bilateral visit to the neighbouring country, the PTI reported.
On his meeting with Modi, Pandey told PTI, "He (Modi) speaks less but he is result oriented. During my meeting, I felt whatever he says he believes in doing it."

"The talks were held in a very cordial and friendly atmosphere. We have to move hand-in-hand in development," Pandey told PTI after the meeting.
The Indian Prime Minister is holding a meeting with Nepalese Foreign Minister Mahendra Bahadur Pandey in which both the leaders briefly discussed some bilateral issues, including hydro-power, trade, energy and security.
PM Modi meets the family members of Nepalese boy Jeet Bahadur.

Also Read: PM reunites Nepalese youth with parents after 16 years

Modi leaves for Hyatt Regency in Kathmandu where he will be staying during his visit and is greeted by Hundreds of cheering Nepali people standing on the sides of the road.
Modi receives guard of honour from the Nepal Army and the national anthems of both countries are played.

The PM at Kathmandu airport. He landed to a very warm welcome; he was received by PM of Nepal and other dignitaries pic.twitter.com/u0EEe4PQpj

— PMO India (@PMOIndia) August 3, 2014
A 19-gun salute is also given to Modi after his arrival.
Modi reaches Kathmandu`s Tribhuvan International Airport and is received by Nepalese PM Sushil Koirala, members of the Council of Ministers and other dignitaries.
Modi leaves for Nepal along with Nepalese boy Jeet Bahadur and 101 member delegation including seven ministers.
Prior to departure, Modi tweeted that he is glad that the parents of the boy have been found and he will be reunited with them.

A day ahead of the visit, Modi tweeted that the Nepal visit is "very special" for him personally as years ago he found a boy, Jeet Bahadur, who had no idea of where he was headed. His education was later sponsored by PM Modi.

On a personal note my Nepal visit is very special. Years ago I met a child from Nepal, Jeet Bahadur who did not know where he was headed.

— Narendra Modi (@narendramodi) August 2, 2014
On the second day of his visit, Modi will visit Pashupatinath temple and meet Nepalese business community.
Special security arrangements have been made for Modi`s visit.
Breaking the protocol, the Nepalese PM will himself receive Modi when he lands in Kathmandu. The Indian PM will be also given 19-gun salute at the airport.
The Indian PM will hold talks with his Nepalese counterpart Sushil Koirala and is also due to address the country`s Constituent Assembly in the evening.
Modi is likely to discuss various issues including bilateral arrangements, trade, investment, hydropower, agriculture and agro-processing, environment, tourism, education, culture and sports.
Prime Minister Narendra Modi will begin his official two-day bilateral visit to Nepal on Sunday, the first ever by an Indian PM in the last 17 years. In 1997, former prime minister IK Gujral had visited Nepal as part of bilateral visit.