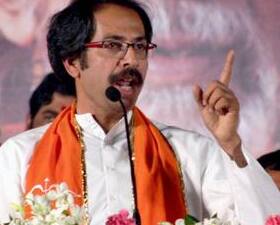 Zee Media Bureau
Mumbai: The tensions between the oldest allies – Bharatiya Janata Party and Shiv Sena – seem to be aggravating with each passing day.
In his editorial in Shiv Sena`s mouthpiece `Saamna`, party chief Uddhav Thackeray on Saturday targeted the BJP for treating senior leader LK Advani unfairly.
Narendra Modi`s era has begun, but that does not mean it is the end of the Advani era, said the editorial.
"There is talk that a `Modi era` has started in BJP, but the `Advani era` has not yet ended in the country`s politics. He has achieved this pinnacle of success by his struggles and sacrifices in public life," Thackeray said in the editorial.
"Advani held the view that (Narendra) Modi`s name should not be declared as prime minister candidate in haste, but his opinion was ignored. Advani subsequently resigned from all party posts, creating a political earthquake. Though he later relented, at regular intervals, there are minor tremors arising out of his unhappiness in the party," the edit further noted.
Complimenting Advani for excellent health despite touching his nineties and enjoying an unblemished political image, Thackeray observed that his position as the BJP patriarch is important and will continue to remain so.
Referring to Advani`s reported contention that when all leaders could get a constituency of their choice, why should he be denied the same privilege, Thackeray said the BJP did not declare Advani`s name till the last minute. The BJP has insulted the octogenarian, said Thackeray.
"Advani`s name should have featured in the first list. The decision on the seat for a person who was part of the BJP`s golden era was kept hanging till the last minute."
"Why should the BJP take so long to decide on Advani`s constituency. Doing so is his insult," the Shiv Sena president said.
"Murli Manohar Joshi was asked to contest from Kanpur so that Modi could contest from Varanasi. Rajnath chose safe seat Lucknow instead of Ghaziabad. Jaitley was fielded from Amritsar by removing Navjot Sidhu from fray. Then why was there so much delay in Advani`s case," Uddhav said.
"The relation that the veteran leader has with the masses is still intact. The Advani episode may seem trivial in comparison with the current political tribulations but one must keep in mind that big accidents can occur through such small incidents," the Sena leader said.
"There is no point coming to one`s senses after the time has passed," he said.
BJP president Rajnath Singh, however, hit back at Shiv Sena, saying that the names of Modi, Sushma Swaraj, Arun Jaitley were also not included in the first list of the candidates announced by the BJP.
Putting an end to a growing controversy, Advani had on Thursday said he has decided to contest from the Gandhinagar constituency, after he was mollified by party leaders, including Rajnath Singh and Narendra Modi, and told he was free to choose between the Gujarat seat and Bhopal.
The octogenarian leader had reportedly gone into a sulk after he was told to contest from Gandhinagar and not his choice Bhopal.
But a series of meetings with senior party leaders as well as a telephonic talk with the Rashtriya Swayamsevak Sangh (RSS) chief brought the former deputy prime minister around and he agreed to go with Gandhinagar.
Meanwhile, president Rajnath Singh on Friday denied any rift with ally Shiv Sena.
Rajnath`s comments came as a rift seemed to be appearing between the two parties after former BJP president Nitin Gadkari met Maharashtra Navnirman Sena (MNS) leader Raj Thackeray recently.
Shiv Sena`s decision to field candidates from Uttar Pradesh, Bihar and Delhi is being seen as a challenge to the BJP.
(With Agency inputs)