New Delhi: After partying till the wee hours of the morning with B-town celebs -- Karan Johar, Ranbir Kapoor, Deepika Padukone, SRK, Aamir Khan and others, Bollywood powerhouse Ranveer Singh decided to surprise 90s diva Raveena Tandon by paying a visit on the sets of her film.
On Thursday morning, the 'Mohra' actress decided to treat her fans on Instagram with a selfie with Ranveer and captioned it in a most beautiful way. She wrote, "Guess who dropped in on my sets! And had my entire team wrapped around his little finger? My #FriendlyNieghbourhoodSpiderman…" 
Check out her post here: 
In the pic, Raveena is seen in an olive green top with her hair let free while Ranveer is seen in cop's attire. Well, Ranveer is currently shooting for Rohit Shetty's 'Simmba' and is essaying the role of a police officer in the film. 
A few months back, Raveena had shared another picture with Ranveer and captioned it, 'With the #selfieking #mrhotnesshimself #RanveerSingh #gymtime #mastikhor.'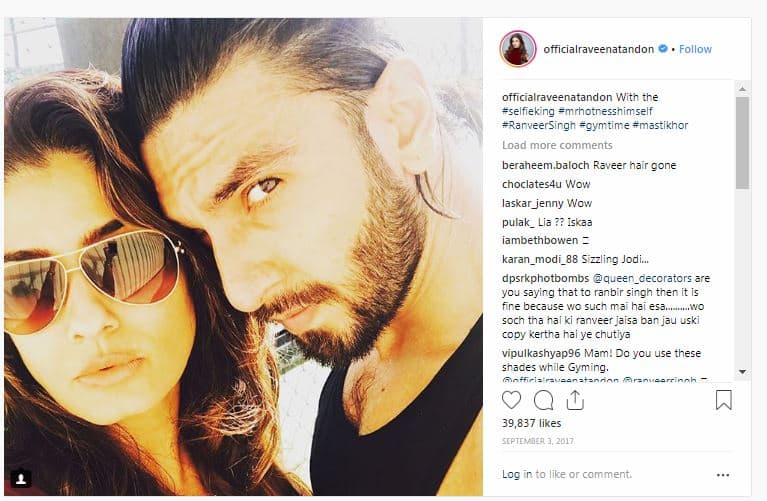 Well, looks like Ranveer has appeared to be Raveena's favorite actor from Gen X. 
At present, while Raveena is pleased to share pics with Ranveer on her Instagram page, the scenario was not the same during the early 90's when she was a star. 
In an interview with Rajeev Masand a few years back, Ranveer had revealed that the actress had once asked him to leave the sets of her film after she found him staring at her continuously while she was giving a shot with Akshay Kumar for a song sequence. 
"A song shooting was happening in the rain where Raveena was looking literally ravishing. I had never seen anything so beautiful in my life. I was short and fat, with broken teeth and a mohawk and there's this rain sequence. Akshay sir had worn this shirt open at his chest and Raveena ji was in white and I was staring at her like this. She obviously was not very comfortable with me looking at her like that, so she asked the security guy to escort me away. For me that was shattering, I was heartbroken because I was told to leave the set," Ranveer had said during the interview.