Zee Media Bureau
New Delhi: American popular video streaming service Netflix has made its India debut.
The Netflix service has gone live in India, among 130 other countries. Here is what you should know if you want to subscribe to its plans.
First Subscription
Netflix will offer a free one-month subscription for its Indian users.
Subscription Pack
After the first month, users can choose between three packs -- the basic pack for Rs 500, the standard pack for Rs 650 and the premium pack for Rs 800.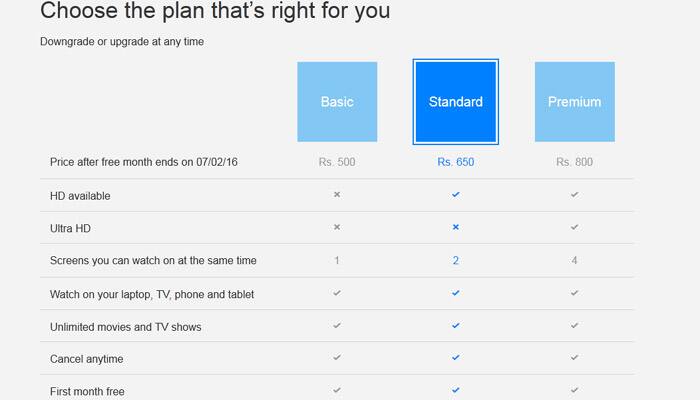 Basic Subscription Plan
The basic plan allows one person to stream series and movies in standard definition. The standard plan allows two people to simultaneously stream Netflix and in high definition when available.
Premium Subscription Plan
The premium plan allows a maximum of four people to simultaneously stream TV series and movies. Additionally, select titles will be available in Ultra HD 4K to those who are using compatible devices.
Subscription Cancellation
Users can cancel their subscription anytime they want.
How to use Netflix
Netflix is available on virtually any device that has an Internet connection, including personal computers, tablets, smartphones, Smart TVs and game consoles, and automatically provides the best possible streaming quality based on available bandwidth.
Payment Option
You can pay via credit cards and PayPal.