NEW DELHI: Israeli Prime Minister Benjamin Netanyahu on Wednesday described Mahatma Gandhi as one of the great prophets of humanity. Netanyahu arrived in Gujarat's Ahmedabad on Wednesday morning and held a grand roadshow along with Indian Prime Minister Narendra Modi before visiting the Sabarmati Ashram, the abode of Mahatma Gandhi for a long time.
In a four-line message jointly signed by Netanyahu and his wife Sara in the visitor's log book at the ashram, the Israeli dignitaries said their 'visit was inspiring'. "An inspiring visit to the hearth of one of humanity's great prophets of inspiration- Mahatma Gandhi-," Netanyahu wrote in the book.
However, instead of writing 'Gandhi', the Israeli Prime Minister made a spelling error and referred to him as 'Ghandi'. As expected, the Twitter users were quick to have a go at Netanyahu's error. Here's how Twitterattis reacted:
Mahatma Ghandi is one of humanity's greatest prophets of inspiration, writes @netanyahu in Sabarmati Ashram's visitors book. But who is this man "Ghandi"? pic.twitter.com/xI8z1LFOkF

— Leela Prasad (@theblcksheep) January 17, 2018
Mahatma (Ghandi) #netanyahuingujarat naam toh sahi likhte #Netanyahu https://t.co/io0LIGVVTl

— analiza pathak (@analizapathak) January 17, 2018
Mahatma Gandhi a prophet? pic.twitter.com/YjEdnwhVqK

— Jean (@fnkey) January 17, 2018
Gandhi ki spelling galat hai

— भाईसाहब (@Bhai_saheb) January 17, 2018
If Israel PM don't know the spelling of Inspiration is somewhat Okay, but misspelling the World's greatest leader Last Name is no less than Blasphemy! !!

Its Gandhi not Ghandi, come out of colonial mindset, ur Jewish not British! !!

— Sonal Borkar (@BorkarSonal) January 17, 2018
Yikes Mr. @netanyahu! Spelling! Spelling! You're right there in his ashram. You could've looked around ANYWHERE to get the right spelling! This note will stay there for generations of leaders to see. And you didn't even need to write his name! pic.twitter.com/opsDEMzib3

— Vijay Venkataramanan (@7th_Samurai) January 17, 2018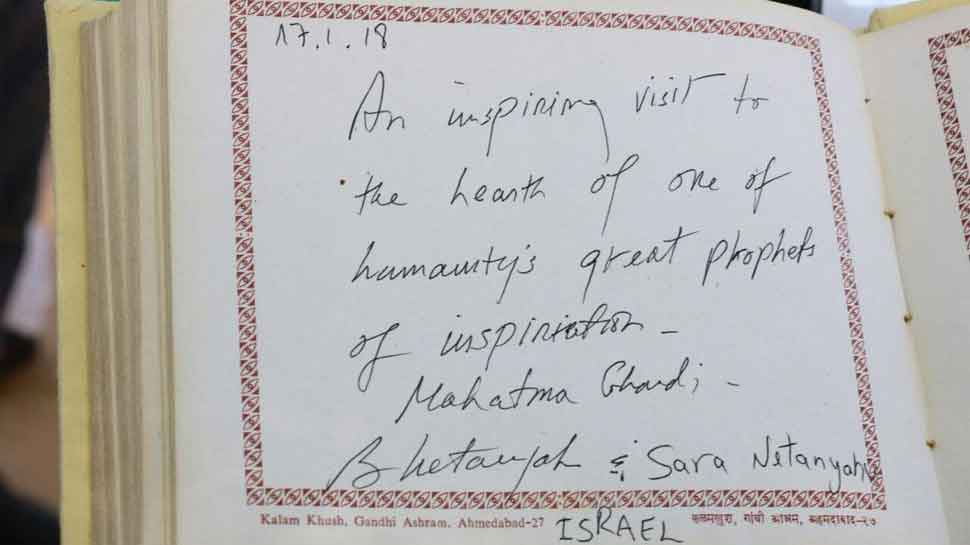 Earlier, the Israeli PM and his wife spent around 20 minutes in the ashram premises, where they visited 'Hriday Kunj', the home of Mahatma Gandhi.
The two dignitaries also tried their hands at the 'charkha', the hand spinning wheel which was emblematic of India's quest for self-reliance during the freedom struggle. They also flew kites for a couple of minutes, as their visit comes just a few days after 'Uttarayana' (or Makar Sankranti), the Gujarat's popular kite festival. 
Gandhi had spent a large part of his life in the Sabarmati Ashram after he returned to India from South Africa to lead India's non-violent freedom struggle. He left the ashram in 1930 when he took out the Dandi March from here, with a vow not to return to the place till India got Independence.