Kolkata: The Assam Government on Thursday issued a travel advisory asking people not travel to Mizoram amidst border tensions. The order was issued by the Home and Political Affairs Department 
"Given the critical prevailing situation, the people of Assam are advised not to travel to Mizoram as any threat to personal safety of people of Assam cannot be accepted," the statement read.  
Also, the order urged the people of Assam currently residing in Mizoram for work to exercise caution. "People of Assam, staying in Mizoram due to work related compulsion, should exercise utmost caution," it said.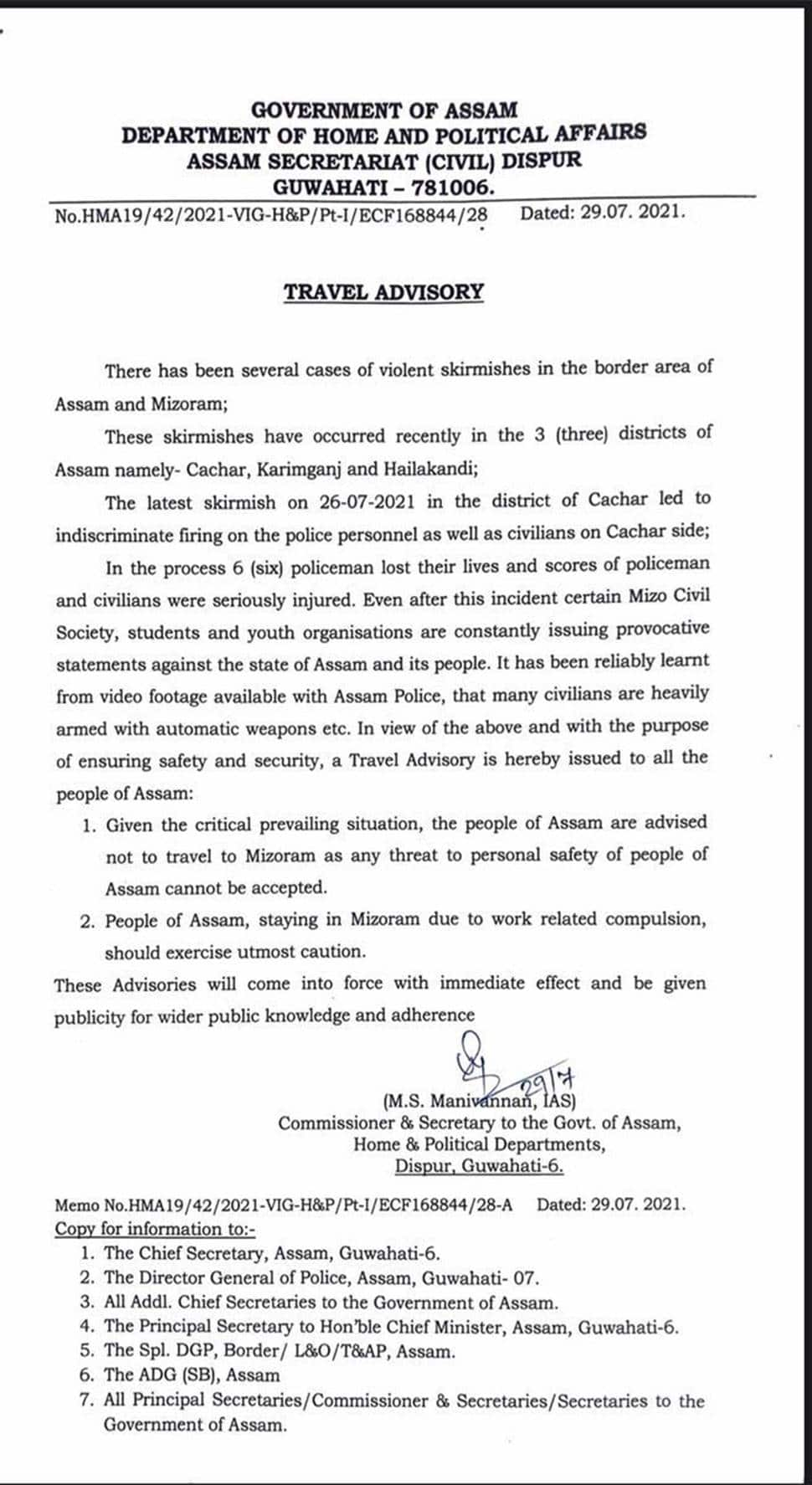 On the other hand, the Assam Government issued a separate order directing the administrative officials in Guwahati and Silchar to ensure safety and security of persons belonging to Mizoram staying at Mizoram Houses. 
This order comes in the wake of violent clashes between Assam and Mizoram Police on the disputed border between the two states on July 26, which left six Assam Police personnel and one civilian dead. 
The government, in its statement, said that there have been several cases of violent skirmishes in the border area of Assam and Mizoram which have occurred recently in the three districts of Assam namely Cachar, Karimganj and Hailakandi. 
"The latest skirmish on July 26 in the district of Cachar led to indiscriminate firing on the police personnel as well as civilians on Cachar side. In the process, six policemen lost their lives and scores of policemen and civilians were seriously injured," the statement read.
More than 40 Assam Police personnel have been injured in the violent clashes and are undergoing treatment at hospitals in Silchar and Guwahati. 
Meanwhile, SP Cachar District Vaibhav Nimbalkar who suffered two bullet injuries on his leg was airlifted and is recuperating in a Mumbai hospital following a surgery.