NEW DELHI: The Economic Survey 2018 has thrown up unprecedented data that creates a picture of which states contribute to India's international exports. It turns out, just five states account for a colossal 70 percent. Another major trend the data showed was that coastal states made up close to three-fourths of all exports from India.
Maharashtra (22.3%), Gujarat (17.2%), Karnataka (12.7%), Tamil Nadu (11.5) and Telangana (6.4) were the top five states when it came to exports. Haryana (4.9%) came next, bringing up the cumulative to 75 percent to total exports.
The data also revealed that 16 of India's 30 states (29 states + Delhi) account for 97 percent of exports. The Northeastern states, Sikkim, Bihar, Jharkhand, Chhattisgarh Jammu & Kashmir and Himachal Pradesh together make for only 3 percent of exports.
This is the first time the Economic Survey is able to present such data, thanks to the data collected because of the implementation of the Goods and Services Tax (GST).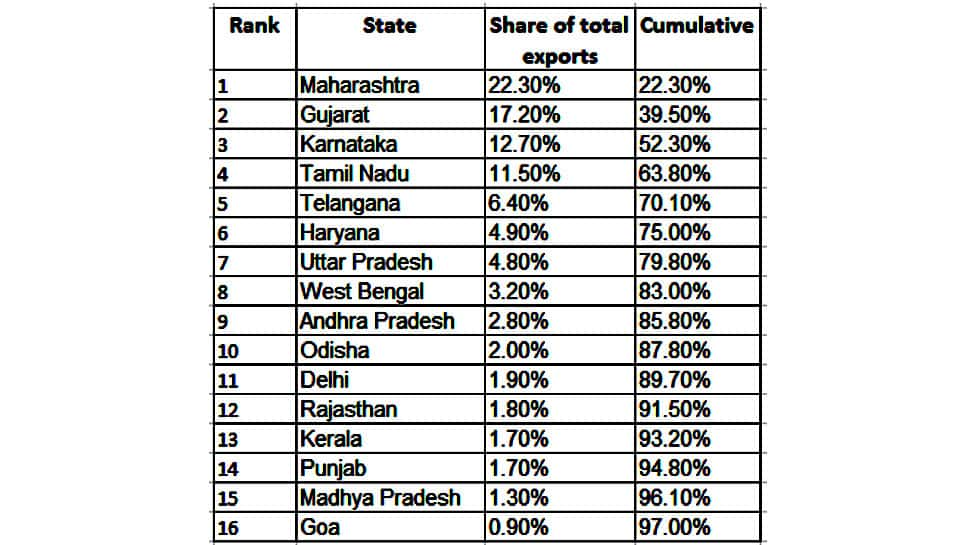 Coastal states vs land-locked states
Among the top five states when it comes to exports, the established industrial base of Maharashtra and Gujarat seems to have kicked into gear to deliver the numbers. In the case of Karnataka and Telangana, it seems to be driven by IT/ITES exports, while Tamil Nadu has a bit of both.
The coastal states not in the top five are West Bengal (3.2%) at number 8,  Andhra Pradesh (2.8%) at position 9, Odisha (2%) at 10, Kerala at (1.7%) at 13 and Goa (0.9%) at 16the position.
Each and every single one of India's coastal states - and there are nine - figured in the list of top 16 states that make up 97 percent of India's total exports. Cumulatively, they accounted for a massive 74.3 percent of India's total exports.
The seven land-locked states on the list make up for 22.8 percent of exports. Of these, Telangana (6.4%) leads the land-locked pack, followed by Haryana (4.9%) and Uttar Pradesh (4.8%). Delhi (1.9%), Rajasthan (1.8%), Punjab (1.7%) and Madhya Pradesh (1.3%) made the rest of the landed pack.
Exports corelate with prosperity?
The newly available data has also helped establish the effect exports can have on the local economy. 
"Since these data are available for the first time, one can immediately answer the question of whether prosperity is related to export performance... conventional wisdom is correct: a state's GSDP per capita is highly correlated with its export share in GSDP (for the 20 major states)," read the Economic Survey.
In the Indian context however, there is one state that predictably defies this trend - Kerala. The state ranks second in per capita Gross Domestic State Product (GSDP) while not even accounting for one percent of India's total exports.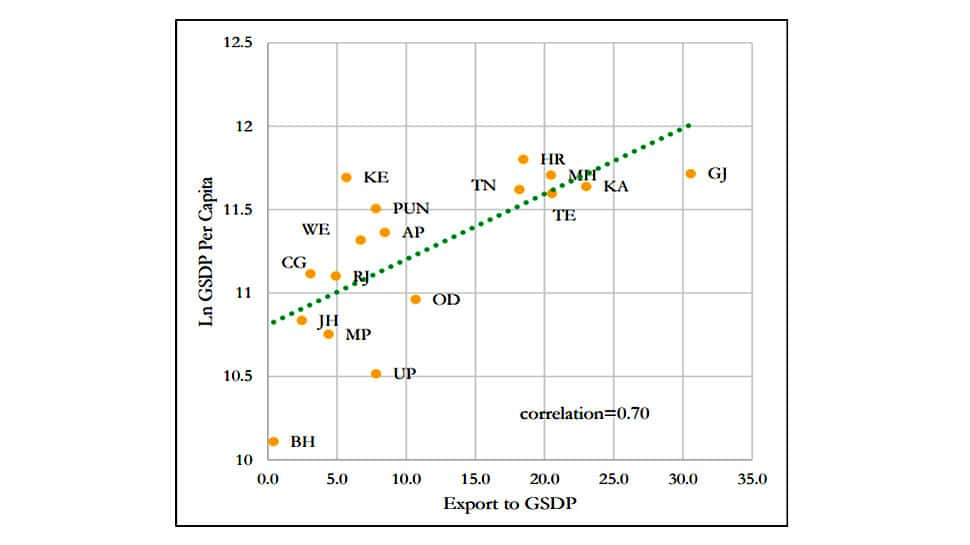 "The one major outlier in the chart is Kerala, but only because it is a large recipient of remittances. If remittances are added and created a broader globalization index for states, Kerala may not be an outlier," the Economic Survey document concluded.