'Every child in Gujarat will prosper if…': Arvind Kejriwal takes dig at Sonia Gandhi, Amit Shah
While addressing a gathering in Gujarat, Arvind Kejriwal promised to make contractual employees permanent and creation of 10 lakh jobs in the state
Arvind Kejriwal said if voted to power in Gujarat, AAP will ensure that every child prospers
He also promised to make contractual employees permanent and creation of 10 lakh jobs in the state
After the gathering, Arvind Kejriwal invited a Dalit man and his family from Gujarat to his residence in Delhi for a meal on Monday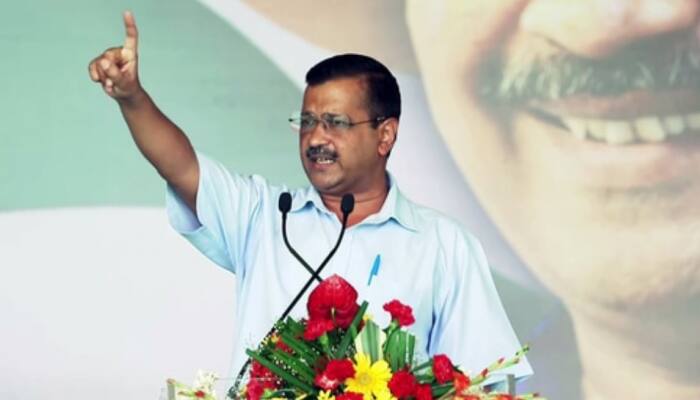 Ahmedabad: Delhi Chief Minister Arvind Kejriwal on Sunday said if voted to power in Gujarat, Aam Aadmi Party (AAP) will ensure that every child prospers and cited a message on 'prosperity of select children' to target Congress leader Sonia Gandhi and Home Minister Amit Shah. In his latest visit to poll-bound Gujarat, Kejriwal addressed a gathering of youth with his Punjab counterpart Bhagwant Mann and later town hall meetings with outsourced and contractual employees and sanitation workers in Ahmedabad where he promised the creation of 10 lakh jobs and the implementation of 'equal work, equal pay' if AAP forms a government. He also promised to make contractual employees permanent.
During a town hall with sanitation workers, Kejriwal invited a Dalit man and his family from Gujarat to his residence in Delhi for a meal on Monday.
"I was seeing a wonderful message being shared in a Gujarat WhatsApp group that I follow. It says if you vote for Congress, then Sonia Gandhi's son (Rahul Gandhi) will prosper. If you vote for BJP, (Union Home Minister) Amit Shah's son will prosper, and if you vote for AAP, then every single child of Gujarat will prosper," the AAP national convener told a gathering of youth amid applause.
Like the AAP governments provided 12 lakh jobs in Delhi and 20,000 in Punjab in less than six months, the party is committed to providing 10 lakh jobs in Gujarat when it comes to power, he said. Kejriwal again listed the "job calendar" for Gujarat and said the AAP will fill teachers' posts in schools, open new colleges and mohalla clinics, and provide more doctors and health care staff in hospitals, among others.
"I believe if 10 lakh jobs are less, we will be able to provide 20 lakh government jobs in five years," he said.
He alleged, "leaders of both the BJP and Congress have stolen so much of public money that if their properties are sold, then I believe the entire debt of Gujarat can be paid".
"If the AAP forms a government, we will spend every single penny on you (citizens), and will not let it be stolen," he said, adding the AAP will stop the "loot" carried out by leaders of the two parties. Kejriwal also targeted the BJP government in Gujarat over the cases of exam question paper leaks and said the AAP government will open such cases.
"Leaders who have played with the future of the youth will be sent to jail. We will ensure there is no paper leak in Gujarat. And if anyone dares, we will bring a law with a provision of 10 years imprisonment," he said.
Punjab CM Mann urged the youth to use their energy positively to change the state government. "For the first time, it has happened in 27 years that (senior BJP leader) Amit Shah went to inaugurate a government school (in Gujarat). He is forced to pay attention to the education sector, but didn't do so in the past," the AAP leader claimed.
Mann said the AAP has set the narrative that politics based on religion, caste, and allurement money will not work.
"If you have done 'Mann Ki Baat,' then why do it again on the radio (referring to Prime Minister Narendra Modi's programme)? Listen to the public's 'mann ki baat'. But they have no habit of listening," he said.
Addressing a town hall with outsourced and contractual employees, Kejriwal said AAP will end the contract system if voted to power so that money comes directly into the bank account of the employees without middlemen taking away anything. Assembly polls are likely to be held in December in Gujarat, where the Bharatiya Janata Party has been ruling for the past 27 years.
"If we form a government, all contractual employees will be made permanent. And we will do so properly so that the court does not grant a stay later on," Kejriwal said.
With the Punjab chief minister by his side, Kejriwal said 36,000 contractual employees in Punjab will be made permanent. He has made 8,500 teachers permanent. The Delhi CM said contractual employees will also benefit from free power up to 300 units as well as healthcare from a network of 20,000 mohalla clinics, while women will get Rs 1,000 per month.
Addressing sanitation workers, predominantly from the Dalit community, a participant named Harsh Solanki said he saw Kejriwal recently accept a dinner invitation from an autorickshaw driver during his town hall in Ahmedabad and sought to know if the latter would come to his home for a meal.
Kejriwal told Solanki that he would visit his house for a meal during his next trip to Ahmedabad, and at the same time, extended an invitation to the latter and his kin to come to his Delhi home to break bread.
Solanki said he was glad to see Kejriwal coming to the Dalit community, something he claimed no other leader had done since Independence. Kejriwal said the office of a Congress leader has photographs of Sonia Gandhi and Rahul Gandhi, while the office of a BJP leader has a picture of Prime Minister Narendra Modi.
"When you go to the office of an AAP leader, you will not see the photographs of Kejriwal or Mann, but of Babasaheb Ambedkar. AAP is the only party moving on the path shown by Ambedkar. Babasaheb's dream was not fulfilled in the last 75 years, but I have pledged to fulfil his dream," he added.
Live Tv