In an attempt to honour slain Hizbul Mujahideen terrorist Burhan Muzaffar Wani, Pakistan released special 'commemorative' postal portraying him as a freedom fighter.
Calling him a 'victim of atrocities by Indian troops in Kashmir', the Pakistan Post released the postal stamps, reported TOI.  They were issued by Philately Bureau in Karachi on 'Kashmir Martyrs Day' on July 8, 2016.
The report further stated that the stamps were available on online e-commerce site e-bay for $6.99 (approximately Rs 500). In Pakistan, but the stamps were being sold at 8 Pakistani Rupees.
Apart from Wani's stamp, the postal agency released 19 other stamps including 'Braid chopper', 'Human Shield', 'Over 100,000 Kashmiris Martryed' and so on, under the series 'Victim of atrocities by Indian troops in Kashmir'.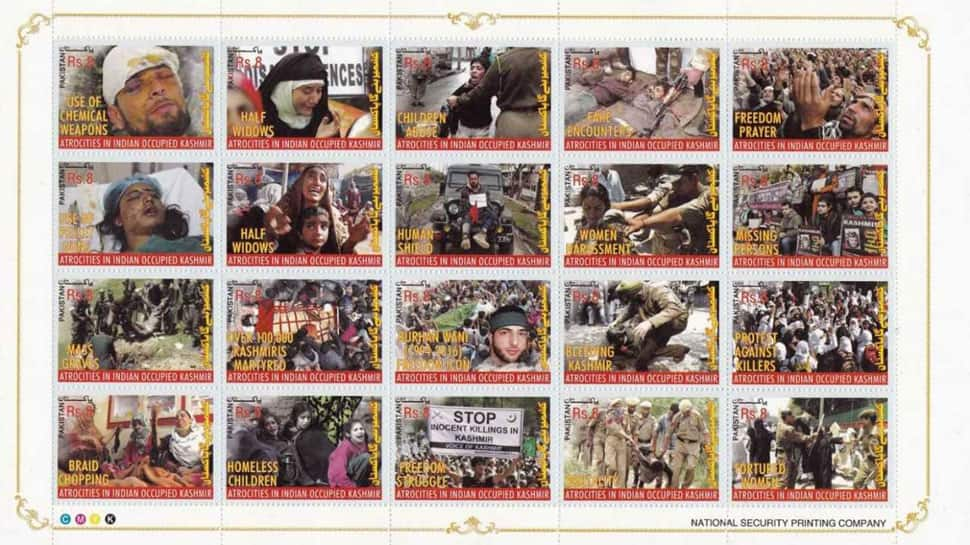 Wani, a resident of Tral, was gunned down on July 8 during a raid of terrorist hideout by Indian security forces in Kokernag area of southern Anantnag. 
Wani, who was quite active on social media, was allegedly involved in recruiting young Kashmiris in the name of jihad.
His death sparked off a series of unrest in the Kashmir Valley, leading to the loss of at least 85 lives.
This is not the first time Pakistan has tried to glorify the Mujahideen terrorist.
In 2017, Pakistan Army Chief Gen Qamar Javed Bajwa praised Wani, stating that his death "infused a new spirit in the struggle for freedom" in the Kashmir Valley. 
Pakistan has been under tremendous pressure from the United States and other nations to stop supporting terrorist outfits in recent times.