New Delhi: India has almost reached the half-way mark in Lok Sabha election 2019 with voting in three of seven phases over and the fourth phase scheduled for Monday (April 29). In the searing and sweltering heat of the Indian summers, politicians continue to go the extra distance to reach out to voters who will get to decide their fate in the crucial election.
Verbal duels continue to be as scathing as the summer sun itself with political rivals digging heels and firing accusations left, right and centre. On Sunday, Bharatiya Janata Party chief Amit Shah was in Uttar Pradesh and Bihar to address rallies while UP CM Yogi Adityanath addressed a number of rallies in Bihar. Congress' Priyanka Gandhi Vadra was in UP too to address two rallies here while former UP CM and Bahujan Samaj Party chief Mayawati was in Rajasthan.
Thank you for joining us. Do come back again on Monday (April 29) for all updates on Lok Sabha election 2019, when India will vote in the fourth phase. Meanwhile, here are updates from Sunday (April 28):
*  Sunny Deol to file nomination from Gurdaspur, Punjab, as BJP Lok Sabha candidate tomorrow. Kavita Khanna, wife of former Gurdaspur MP late Vinod Khanna, and Union Minister Jitendra Singh to be present. #LokSabhaElection2019 . (File pic) pic.twitter.com/hs2F9Z4u2s
— ANI (@ANI) April 28, 2019
* Voting for 71 parliamentary constituencies in eight states is scheduled to take place in the fourth phase of Lok Sabha election on Monday.
* Rahul Gandhi will campaign in Rajasthan on April 29. Here's his full schedule.
10:45 hrs: Public Meeting at Saipau P.M. Ground, District Dholpur
14:00 hrs: Public Meeting at Rajiv Gandhi Stadium, Sardarsahar, District Churu
16:00 hrs: Public Meeting at Govt. LBS College Ground, Kotputli, District Jaipur
* Priyanka Gandhi Vadra and Congress leader Shri Jitin Prasada held a roadshow in Dhaurehra, Uttar Pradesh today.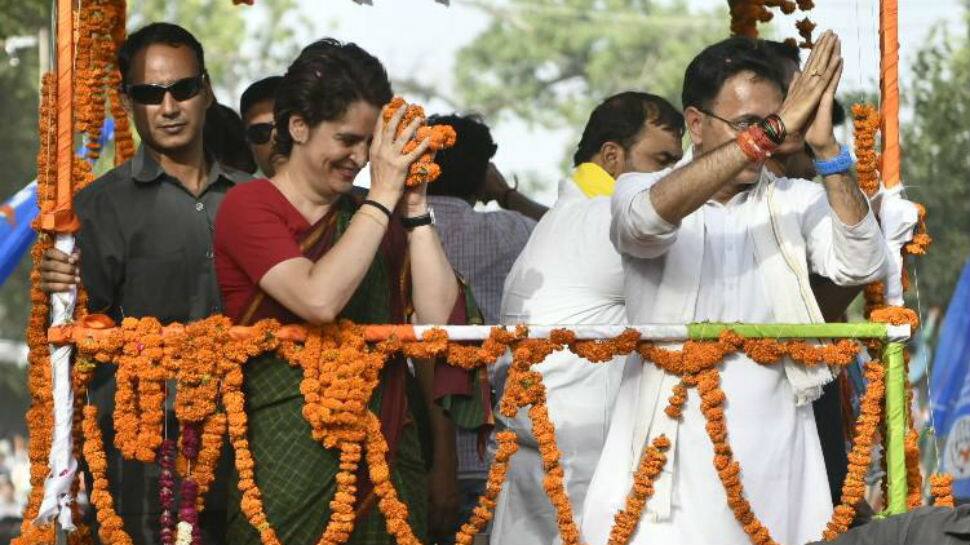 * Rs 32.63 crore cash, liquor, narcotics seized in Rajasthan after MCC came into force.
* Did you know? There are 13.82 lakh young voters out of 4.88 crore voters in Rajasthan.
* Manoj Tiwari, who is re-contesting from the North East Delhi Lok Sabha seat held a 10 km-long roadshow in his constituency for the second consecutive day on Sunday and appealed to voters to strengthen the hands of the BJP government.
* BJP releases list of candidates for bye-elections to 2 legislative assembly constituencies of Karnataka & 1 of Goa; Sidharth Kuncalienker to contest from Panaji, Avinash Yadav from Chincholi & SI Chikkanagowdar from Kundgol pic.twitter.com/6sIIpAltYL
— ANI (@ANI) April 28, 2019
* Jailed ex-MP Ateeq Ahmad to fight against PM Modi in Varanasi.
* Still don't know his caste: Priyanka Gandhi after Narendra Modi alleged Opposition is making personal attacks on him
* Poll officers across the country get set for fourth phase:
West Bengal: Polling parties gather at EVM distribution centre in Bolpur, in Birbhum district; 8 Lok Sabha constituencies to go to polls tomorrow. #LokSabhaElections2019 pic.twitter.com/BhDpwCjpb3

— ANI (@ANI) April 28, 2019
#Rajasthan: Visuals from EVM and VVPAT distribution centre in Jhalawar–Baran Lok Sabha constituency. 13 parliamentary constituencies to vote in the fourth phase of #LokSabhaElections2019, tomorrow. pic.twitter.com/DxFknFhaz8

— ANI (@ANI) April 28, 2019
Mumbai: Visuals from VVPAT and EVM distribution centre at Malabar Hill; 17 parliamentary constituencies in the state will go to polls in the fourth phase of Lok Sabha elections tomorrow. pic.twitter.com/WAMMPjAPxV

— ANI (@ANI) April 28, 2019
* Amit Shah addresses rally in Sitamarhi (Bihar):
- PM Modi has never taken a break from work but Rahul baba has a habit of disappearing frequently. Even his own mother wonders at times where Rahul baba has gone.
- PM Modi has a special place in his heart for the poor in the country. He has relentlessly worked to ensure that their welfare is taken care of.
* Priyanka Gandhi speaks to reporters in Amethi, accuses political rivals of trying to bribe voters. "The way they contest polls by distributing money, sarees and shoes in front of media is wrong. People of Amethi have never begged in front of anyone."
* It is getting hot in Delhi. And that's not a reference to the weather. Click here for the latest in Gambhir vs AAP. 
* Heard of the burger vendor in Ludhiana who is contesting Lok Sabha election?
Punjab: RP Singh, a burger vendor is contesting as an independent from the Ludhiana LS seat. He says, "If I'm elected I'll take on the education mafia & ensure good education for poor people. I'm unable to put up big posters, I'm only campaigning on my scooter but I'm confident." pic.twitter.com/x8l6qJl4JS

— ANI (@ANI) April 28, 2019
* Uma Bharti is against comparisons with Sadhvi Pragya. Click here to know why
* Bollywood action hero Sunny Deol, who recently joined BJP, will begin his campaigning in Gurdaspur. He is scheduled to file nomination from here on April 29.
* Mayawati will be in Rajasthan to address a rally in Alwar while AIMIM's Asauddin Owaisi will address a rally in UP's Behraich.
* BJP is stepping up its campaigning in Uttar Pradesh with Amit Shah scheduled to address rallies in Barabanki and Mohanlalganj. He will also address rallies in Bihar. Meanwhile, UP CM Yogi Adityanath has a packed Sunday lined up and will address four rallies in Bihar.
* Priyanka Gandhi Vadra will be in Bahraich and will address two rallies here through the course of the day.
* High-decibel campaigning from almost every political party for the fourth phase of voting ended on Saturday. Polling for the same will be held on Monday, April 29 under the watchful eyes of the Election Commission of India. Over 12 crore 79 lakh voters will cast their votes to decide the fate of 961candidates at over 1 lakh 40 thousand polling booths across nine states on April 29. (Read full report here)