Kollam: At least 102 people are feared dead and over 280 injured after firecrackers caused a massive fire at the Puttingal temple in the coastal town of Paravur located about 60 kms from the state capital, early on Sunday. The gruesome incident occurred around 3:30 am on Sunday.
Eyewitnesses said that the fireworks display started close to midnight and when nearing its close, a spark from a cracker landed in a building that had stored some high potency crackers and it caught fire causing a massive explosion. Following this, the building collapsed and that was the prime reason for the number of casualties to increase.
Events as they unfolded:
- PM thanked PM Sharif, and also expressed his deep condolences to him on loss of life and damage due to quake in Khyber Pakhtoonkhwa: MEA.
- Pakistan Prime Minister Nawaz Sharif calls up PM Narendra Modi to offer condolences over the Kerala fire tragedy.
- If and when needed, we're ready to transfer patients to AIIMS or Mumbai,whenever and wherever required: JP Nadda
- 50 cartons of medicines have been supplied, we're in constant coordination with the state govt and are giving whatever help needed: JP Nadda
- PM Modi has asked for a detailed report on how the accident took place. State administration will submit a report: Union Minister JP Nadda
- Russian President Putin conveys condolences over Kollam temple fire tragedy.
- This is a tragedy for Kerala and the whole country: Rahul Gandhi.
- I visited the site and the hospital today, my sympathies are with the kin of the deceased persons. I have told CM that Government of India will help if patients need to be shifted to Mumbai or Delhi. Government of India stands with the people of Kerala, we will help them in the best way possible, says PM Modi.
- Kerala temple tragedy shocking, painful: Mohan Bhagwat.
- INS Kabra and INS Kalpeni carrying medical supplies dock at the Kollam harbour.
- Keral CM orders judicial probe in Kollam fire tragedy.
- PM Modi, Kerala CM Oommen Chandy meet victims at AA Rahim Memorial Hospital.
- Congress VP Rahul Gandhi reaches Kollam.
- Indian Coast Guard (ICG) personnels donate blood at Trivandrum Medical Hospital for victims.
- PM Modi reaches the accident site in Kollam
- PM Modi reaches Kollam to visit the accident site
-We're happy that they are coming to Kerala to share our grief: Oommen Chandy on PM Modi's visit to Kollam
- PM Narendra Modi boards IAF chopper in Thiruvananthapuram, departs for Kollam
- Thiruvananthapuram: PM Modi received upon arrival by Governor of Kerala P Sathasivam
- PM Narendra Modi reaches Thiruvananthapuram
PM has directed that no protocol formalities be observed on his arrival in Kerala & focus remains on relief & rescue operations in Kollam.

— PMO India (@PMOIndia) April 10, 2016
A team of doctors including burn specialists will accompany PM @narendramodi to Kerala.

— PMO India (@PMOIndia) April 10, 2016
- ICG Ship C-427 loaded with medical team arrives in Kerala's Kollam
-Fire was contained to only one room, reason can only be ascertained after investigation: Sanjay Tomar, Fire Officer
- Pakistan on Sunday expressed its condolences to the families of those who lost their lives in a massive fire at the Puttingal temple in India's southern Kerala state in the wee hours on Sunday; the Ministry of Foreign Affairs in a statement condoled the incident.
- This is a big tragedy, I talked to Kerala CM as soon as I received the news: Rajnath Singh
- Centre has already offered medical assistance, but at present we are fully equipped: Oommen Chandy
- Meeting state cabinet today, we will discuss and then take a decision:Oommen Chandy on being asked if judicial probe will be ordered
- An additional team of Indian Coast Guard is on its way to Kollam to donate blood
- The issue of ordering a judicial probe into the tragedy will be discussed in the cabinet meeting today, Centre has offered for medical assistance but we are fully equipped: Chandy
- Kerala CM Oommen Chandy visits Puttingal temple. 
"Sufficient medical facilities are available here, we are giving best medical care to all injured persons," says Chandy after visiting the site. 
- Expressing deep shock and grief at the tragic incident, Congress president Sonia Gandhi asked the government to ensure ample and immediate relief measures. Sonia Gandhi, issuing a statement, also prayed for the departed souls and well being of the injured.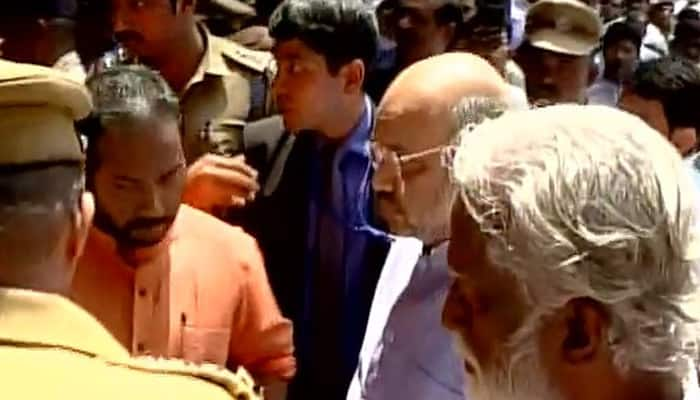 - BJP President Amit Shah visits Trivandrum Medical College where injured persons are being given medical assistance
- Unexploded explosives found at the site of Puttingal temple fire. 
- 4 IAF helicopters have reached Trivandrum and are ready for the task. 2 AN32 aircrafts will take two NDRF teams from Arakkonam.
-Kerala government has decided to order a judicial a probe into the incident. Anyone found guilty in the tragedy will not be spared: Congress
- 102 persons confirmed dead in Kollam temple fire mishap; at least 280 injured.
- PM Modi leaves for Kerala with a group of doctors.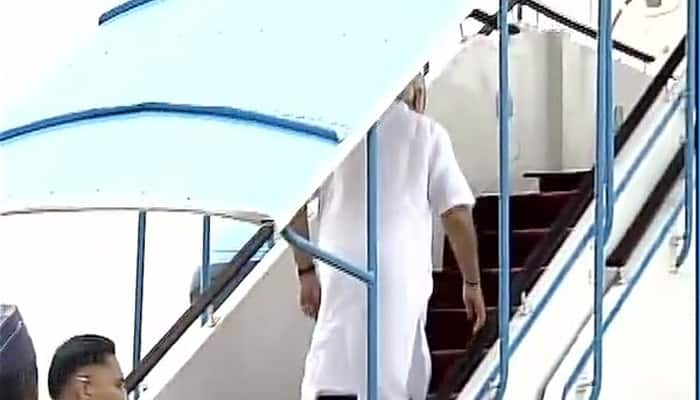 - A group of 15 doctors from AIIMS, RML hospital and Safdarjung hospital in Delhi leaves for Kerala with Prime Minister Narendra Modi.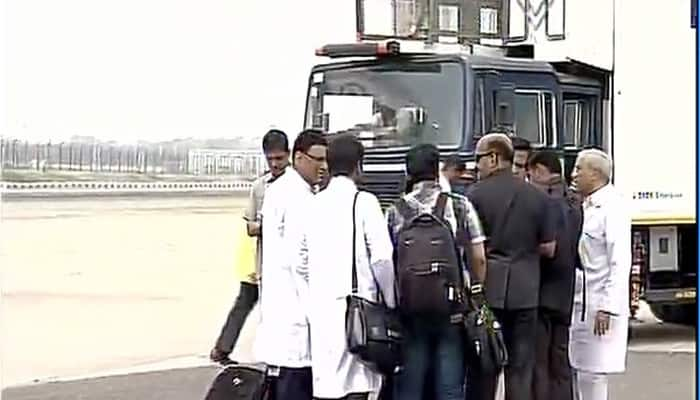 - Congress vice-president Rahul Gandhi to visit Kollam today
- INS Kabra and INS Kalpeni with medical stores being sailed to Kollam (Kerala) shortly, INS Sunayna also being sailed a little while later.
- One additional Dornier and two Chetaks also being pressed in for Kollam by the Navy.
- Death toll rises to 96 says Kerala DGP 
- Media reports say that fireworks carried out despite denial of permission by the district authorities.
- Case registered against temple authorities and explosive licensees.
- PM Modi has asks for mobilization of Air Force and Navy assets in the area to assist in rescue and relief. PM has instructed that no official welcome protocols should be followed on his arrival. A team of burn specialist doctors also traveling with PM Modi to Kerala, PM will land directly in Kollam.
- Indian Navy joins in rescue ops,1 dornier and 2 ALHs with medical teams, dispatched from Garuda Naval Air station near Kochi.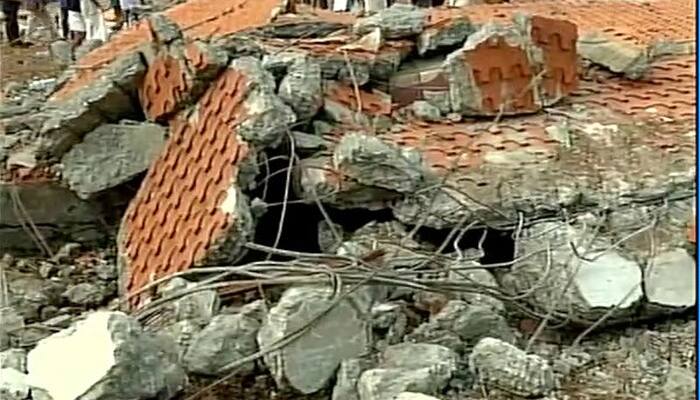 - Kerala Home Minister Ramesh Chennithala reaches Puttingal temple in Kollam
- Kerala CM Oommen Chandy convenes an urgent cabinet meeting at 3 pm in Kollam. 
- PM Modi to leave for Kerala shortly. He will meet CM Oommen Chandy, will also visit people who got injured in the tragedy.
- PM Modi announces Rs 2 lakh ex-gratia to the kin of deceased and Rs 50000 to critically injured.
- BJP President Amit Shah cancels all his public programs scheduled in Kerala today, will visit Kollam later in the day
- Police, disaster management teams and fire brigade are on the spot for rescue and relief work.
- Rescue operations by Air Force underway. Four helicopters including Mi-17  & ALH from Sulur (Coimbatore) being used.
- The number of injured persons crosses 350. 
- Prime Minister Narendra Modi to visit Kerala to take stock of the situation.
- Death toll mounts to 83
- Fire at temple in Kollam is heart-rending & shocking beyond words. My thoughts are with families of the deceased & prayers with the injured: PM Modi.
"Spoke to CM Oommen Chandy about the fire at a temple in Kollam. Arranging for immediate shifting of those critically injured via helicopter. Have also asked my Cabinet colleague & Health Minister  @JPNadda to immediately reach the site of the fire tragedy in Kollam," tweeted PM Modi.
WATCH: Moment when fire broke at Puttingal temple fire in Kollam (Kerala) due to fireworks display, 75 dead.https://t.co/xXtBnZkgWX

&; ANI (@ANI_news) April 10, 2016
- We're giving all possible support to the injured people. District Collector, Kollam is convening a meeting of police officers after that we'll decide on post-mortem & other things, says Kerala Health Minister VS Sivakumar.