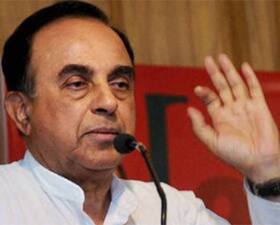 Zee Media Bureau
New Delhi: In what may trigger a political storm in the country, according to the latest WikiLeaks revelations, senior Bharatiya Janata Party (BJP) leader Subramanian Swamy had passed on information regarding elections held during tenure of ex-Prime Minister Indira Gandhi to the US, a news report published on Friday said.
The WikiLeaks posted on micro-blogging website twitter today -
#Congress2014: Subramanian Swamy gave US political inteligence on Indira Gandhi's election strategy, health https://t.co/qgkWFzvAbl #modi

— WikiLeaks (@wikileaks) April 24, 2014
The report states that WikiLeaks has also released an electronic telegram sent in 1977 which contains classified information about Indira Gandhi, saying that Swamy told a US department officer that Gandhi was in a hurry to declare elections in the month of March due to her ill health.
It was sent from the Department of State (USA) to New Delhi, India, the WikiLeak report said.
"SUBRAMANIAN SWAMY SUGGESTED TO DEPARTMENT OFFICER TEN DAYS AGO THAT HE HEARD MRS. GANDHI WAS PROMPTED TO SET THE MARCH ELECTION DATE
BECAUSE SHE WANTED TO SQUARE THINGS AWAY IN VIEW OF HER
QTE FAILING HEALTH UNQTE," the WikiLeak report said.
The entire report has been published on the website of WikiLeak:
https://wikileaks.org/plusd/cables/1977STATE024965_c.html#efmAglAj9
In a major turn of events, the ruling Congress lost control of India for the first time in independent India in the Indian General Election, 1977.
The election came after the end of `The Emergency` that Prime Minister Gandhi had imposed in 1975; it effectively suspended democracy, suppressed the opposition, and took control of the media with authoritarian measures.
Gandhi even lost her seat in Rae Bareli, Uttar Pradesh and Congress was ousted in the Lok Sabha polls.