Veteran actor Rishi Kapoor has done it again. The '102 Not Out' actor, who often makes headlines for his controversial posts and outbursts, has expressed his anger by hurling abuses at a Twitteratti.
Rajat, with Twitter handle @Classicfergie, had criticised the recently released trailer of 'Sanju' and called filmmaker Rajkumar Hirani a 'scum'. "I am stunned at that new Sanju trailer. Such a blatant attempt to clean up Sanjay Dutt's image. A criminal is a criminal. That too who was involved in bombings in a city. Raju Hirani is absolute scum," he had posted on Twitter sometime back.
Following the post, an angry Rishi went to send an abusive direct message to the Twitter user for criticising 'Sanju' trailer. "What do you know of cinema you prick. We are in the entertainment business not repairing anybody's image. As swipes like you don't deserve to see films," he tweeted. It is to be noted that 'Sanju' features Rishi's son Ranbir Kapoor in the role of controversial actor Sanjay Dutt. 
Rishi's abusive text was put out as a screenshot and as expected, it soon went viral. 
Take a look at the screenshot of Rishi Kapoor's message below: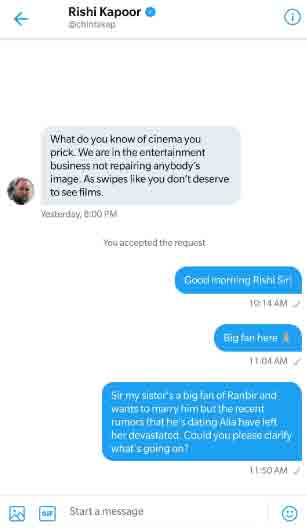 This is not the first time Kapoor has abused a Twitter user on direct message. Last year, he hurled abuses at woman via direct message on Twitter. A screenshot of the same was shared on the social media after which he ended up receiving flak for his rude behaviour.
meme was what i made after his" khaandani merit mongering"last week abusing in DM not openly COWARD boi.saree bindi feminists help me plz pic.twitter.com/9oc8rVJydQ

— .... (@DardEdiscourse) September 19, 2017
It all started when a cyber citizen, with Twitter handle 'DardEdiscourse', posted a meme on the Kapoor family. This had left Rishi fuming following which he wrote an explicit-laden message to the woman.