New Delhi: Kapil Sharma, the name Indian television reckons with finally came back on the small screens after a brief break with a new show titled 'Family Time With Kapil Sharma'. Did the audience like it? Well, it received a mixed response from viewers online.
Some liked it while other called it a drab and boring. 'Family Time With Kapil Sharma' is a weekend watch whose first episode was telecast on March 25, 2018. Only Kiku Sharda and Chandan Prabhakar were seen back on the show, doing the same stuff in this game show.
While Kiku and Chandan's banter with Kapil is liked by the audiences, it is Sunil Grover, who everyone is missing the most. He is the king of disguise and that is quite evident from his various avatars of Rinku Bhabhi and Dr Mashoor Gulati to name a few.
Call it a coincidence much, a day after Kapil's show went on-air, Sunil shared a picture on Instagram with a caption "Entrepreneurial." It soon became viral and has garnered some 231,178 likes so far. His fans had different views about the picture. While some became concerned about this picture others advised Sunil and Kapil to join forces one more time.
Check out the picture and some of the comments: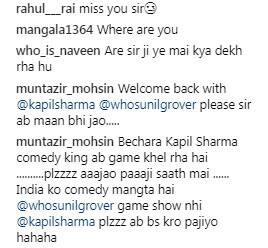 The new show has same old faces Kiku Sharda and Chandan Prabhakar backing Kapil, the host along with new addition Neha Pendse. 'Family Time With Kapil Sharma' is largely a game show with comedy added to give it an edge over other shows. You have the loveable Navjot Singh Sidhu sitting on the big chair giving many one-liners to the guest and those playing the game.
Full marks for the game format but looks like Kapil will really have to put in more efforts to make this one as successful as his previous outings.