Coast Guard's ALH Dhruv Helicopter Crashes Near Kochi Airport, Runway Closed
The coast guard's ALH Dhruv helicopter crashed after take off from the Kochi airport, reports suggest that two people onboard have been injured in the incident.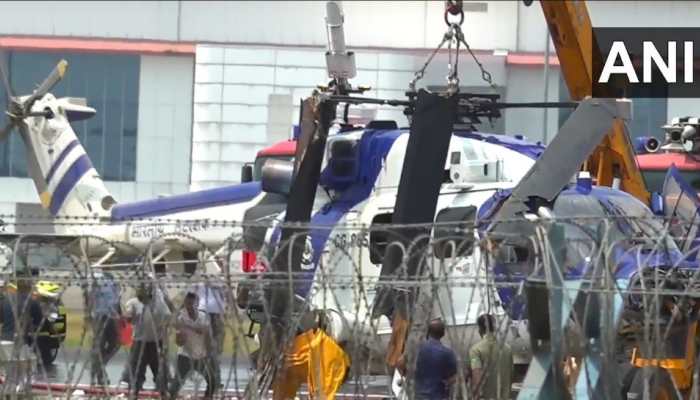 A Coast Guard helicopter crashed on Sunday shortly after takeoff from its enclave at the Cochin International Airport Limited (CIAL), injuring one person. According to reports, the training flight's helicopter crashed just as it was about to take off from the helipad. Two of the three people onboard have been injured in the incident and have been hospitalised for treatment.
Meanwhile, the runway of the Nedumbassery airport has been temporarily closed affecting the flight operations at the airport. It is to be noted that the helicopter in the incident has been identified as the ALH Dhruv Mark 3 helicopter of the Indian coast guard.
Also read: Passenger On Flight Opens Exit Door Moments Before Take Off Activating Emergency Slide; Arrested
After the incident, an Indian Coast Guard official said, "An incident of forced landing of an ALH Dhruv Mark 3 helicopter of the Indian Coast Guard today took place in Kochi while the pilots of the force were testing the chopper. The chopper was at around 25 feet height when it had to make a forced landing. The ICG is working towards resuming the operations of the ALH Dhruv fleet."
#WATCH | Kerala: An ALH Dhruv Mark 3 helicopter of the Indian Coast Guard met with an accident near main runway at Kochi Airport today. All crew are safe. The aircraft sustained damage to its rotors & airframe. ICG has ordered an inquiry to investigate the cause of the accident. pic.twitter.com/OjysEoU1nq — ANI (@ANI) March 26, 2023
From March 8, the fleet of ALH Dhruv helicopters has been grounded due to a mishap involving a Naval helicopter off the coast of Mumbai.
The ICG official added, "Immediately after takeoff, when CG 855 was at about 30-40 ft above ground, the cyclic controls ( which controls longitudinal and lateral movement of aircraft) did not respond. Showing exemplary professionalism and presence of mind, the pilot with bare minimum controls manoeuvred the aircraft away from the main runway to avoid blocking the runway at the international airport: Indian Coast Guard."
With ANI Inputs