Highlights | IND VS NZ, 2nd ODI LIVE Updates: Match washed out as New Zealand lead series 1-0
India Vs New Zealand 2nd ODI LIVE Cricket Scorecard and Updates: Check Scores and Updates from second game HERE as Shikhar Dhawan and Kane Williamson to flip coin toss at 6.30 am on November 27 in Hamilton.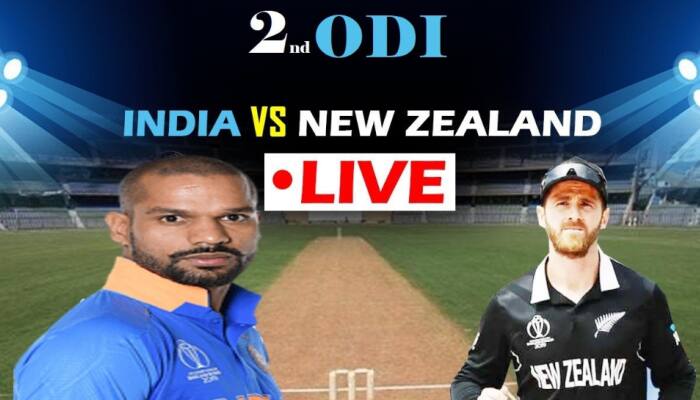 LIVE Blog
India Vs New Zealand (ind vs nz) 2nd ODI LIVE Cricket Score and Updates: Team India, led by Shikhar Dhawan, will aim for a comeback win after being thrashed by 7 wickets in the first ODI in hands of New Zealandat Auckland on Friday (November 25). Indian bowlers looked listless before they appeared clueless as Tom Latham smashed a brilliant hundred, looking in no trouble throughout the innings. Good news for New Zealand fans is that their captain Kane Williamson has come back to form as well, as his 80-odd ensured they chased down India's 307-run target smoothly. Like it always happens, New Zealand batted like they do, with an attacking mindset, playing around their skipper Williamson.
India may be forced to make some changes, especially when Shardul Thakur and Yuzvendra Chahal had bad games. There is Deepak Chahar and Kuldeep Yadav warming the bench and it will be interesting to see whether Dhawan plays them again or not. Chahar can move the ball both ways at the start. More importantly, Chahar adds that bit of an experience to the lineup which was seen missing in the 1st ODI. Not to forget, Chahar is no mug with the bat either. If needed, he can smash some big sixes and help build partnerships even.
Hello from Hamilton __#TeamIndia | #NZvIND pic.twitter.com/AHskNav1Vm — BCCI (@BCCI) November 26, 2022
New Zealand, on the other hand, would be quite confident to play the same XI. There is no reason why they should be changing their playing 11 and fix something which is not broken. NZ should play with their winning combination in the 2nd ODI.
Check LIVE Scores and Updates from India vs New Zealand 2nd ODI here.
12:39 PM
IND vs NZ 2nd ODI: Match Abandoned!
The match has been washed out. Kudos to the ground staff at Hamilton, who worked very hard to get the game started but rain is something beyond everyone's control. 
Only 12.5 overs were bowled today after New Zealand won the toss asked India to bat first. India had lost Dhawan before Suryakumar Yadav and Shubman Gill took control of things. 
NZ lead series 1-0. The 3rd ODI is on November 30 at Christchurch. See you on Wednesday then, at sharp 6 am IST. Thanks for joining our coverage today. 
IND 89/1 (12.5)
No result
12:23 PM
IND vs NZ 2nd ODI: Rain continues to fall down
Rain continues to come down and ground staff has been beek working hard, they have brought the big covers now and it seems there is more rain expected, hence the big cover. 
IND 89/1 (12.5)
11:56 AM
IND vs NZ 2nd ODI: Rain returns
Rain has arrived again in Hamilton as umbrellas and covers are out. Suryakumar Yadav began to open up just before it began to become heavy. 
We continue to wait. 
IND 89/1 (12.5)
11:48 AM
IND vs NZ 2nd ODI: Surya takes charge
Suryakumar Yadav now takes over after settling in nicely. He reverse-scoops Bracewell for a six over third man, what a shot that was. Gill going strong at the other end, in his 40s now. 
IND 78/1 (12)
11:38 AM
IND vs NZ 2nd ODI: India go past 50
Suryakumar and Shubman help India go past 50. Surya now beginning to look good in the middle. Michael Bracwell, right arm off spin, now comes into the attack. 
IND 57/1 (9.4)
11:31 AM
IND vs NZ 2nd ODI: Surya in the middle
After Dhawan depated, Suryakumar Yadav has joined Shubma Gill in the middle and both are looking to up the ante here in this 29 over match. Gill with a stunning pull for six off Henry. 
IND 41/1 (7.5)
11:21 AM
IND vs NZ: Wicket!
New Zealand strike early after the rain break as Dhawan departs trying to up the ante. Henry with the wicket as Dhawan is caught at mid on. 
Not to forget, this is a rain-curtailed 29-over game now. 
IND 24/1 (5.3)
11:16 AM
IND vs NZ 2md ODI: Match resumes
Gill and Dhawan back the field so do NZ players. Rain has not stopped. It is still drizzling but umpires take the call to go out there and play and see how things pan out. 
IND 22/0 (4.5)
10:50 AM
IND vs NZ 2nd ODI: Rain stops, covers off!
Rain has stopped in Hamilton. Covers are coming off. The ground staff has been working very hard. They are not taking the covers off and if it does not rain, the inspection will be done soon. 
10:12 AM
IND vs NZ: Rain's back...
Black Caps on their Twitter account informed that there will an inspection at 10.15 am. 
As we write this, the broadcaster tells us that rain has arrived again. What a spoilsport. Covers are back on. Ravi Shastri, from comm box, says that it is just a drizzle. 
IND 22/0 (4.5)
09:46 AM
IND vs NZ: Rain stops!
Good news is that rain has stopped in Hamilton and the broadcasters are saying that if there is no rain for 30 to 40 minutes, the ground staff will be able to get the ground ready for the cricket match. It could be a 20-over match now. That's the cut off. 
IND 22/0 (4.5)
09:01 AM
IND vs NZ 2nd ODI: No resumption yet
The rain continues to fall at Seddon Park in Hamilton. The pitch is of course covered. Just 29 balls bowled today. Shubman Gill was looking very good in the middle in whatever little we saw of him today. Dhawan had settled in nicely as well before it began to drizzle and has got only heavier from thereon. 
IND 22/0 (4.5)
08:46 AM
IND vs NZ: Still raining 
The LIVE pictures are not pretty from Hamilton as it is still raining and we can see some fans leaving the stadium. Players continue to have a sip of coffee and tea. We continue to wait in Hamilton. 
IND 22/0 (4.5)
08:32 AM
IND vs NZ 2nd ODI: Rain gets heavier
It is pouring down in Hamilton now. BCCI gives an update on Twitter. It says: "Rain is getting heavier here in Hamilton! The covers are on."
Looks like we will have shortened match. Let's keep our fingers cross for at least a game of cricket.
IND 22/0 (4.5)
08:27 AM
IND vs NZ 2nd ODI Weather Update: Match yet to resume
The rain and wet conditions have continues to disappoint fans throughout this India tour of New Zealand and nothing has changed in this match as well. We are still waiting for the game to resume and surely, we are losing overs now. 
IND 22/0 (4.5)
07:52 AM
IND vs NZ 2nd ODI: Samson dropped!
Indian wicketkeeper and batter Sanju Samson was dropped for the 2nd ODI against New Zealand and it has led to angry reactions from his fans on social media. 
07:42 AM
IND vs NZ 2nd ODI: Rain has stopped in Hamilton 
The rain has briefly stopped in Hamilton and we may have a start soon. It will be interesting to see whether there will be overs lost or not. What's certain with this weather is that this will be a start-stop match. 
IND 22/0 (4.5)
07:27 AM
IND vs NZ 2nd ODI Weather News: Rain stops play
The ground staff races to the middle and the players race out as rain has arrived in Hamilton. The pitch has been covered again. Only 4.5 overs could be bowled. Just a gentla drizzle. Let's see whether we will have overs lost or not. 
IND 22/0 (4.5)
07:11 AM
IND vs NZ: Gill off to a good start
India's openers look good on this beautiful wicket to bat on. Shubman Gill struck two boundaries in the third over, one straight down the ground and other through covers. India look good even if it continues to drizzle a little. 
IND 14/0 (3.3)
07:08 AM
IND vs NZ: India begin innings
Shubman Gill and Shikhar Dhawan have come out to open for India. Tim Southee opens the bowling for New Zealand. He is playing his 150th ODI today, would be looking to do well in his landmark match. 
IND 6/0 (1.2)
06:52 AM
IND vs NZ 2nd ODI: Playing 11s
Sanju Samson has been dropped again, Deepak Chahar replaces Shardul Thakur
India (Playing XI): Shikhar Dhawan(c), Shubman Gill, Shreyas Iyer, Rishabh Pant(w), Suryakumar Yadav, Deepak Hooda, Washington Sundar, Deepak Chahar, Umran Malik, Arshdeep Singh, Yuzvendra Chahal
New Zealand (Playing XI): Finn Allen, Devon Conway, Kane Williamson(c), Daryl Mitchell, Tom Latham(w), Glenn Phillips, Mitchell Santner, Michael Bracewell, Matt Henry, Tim Southee, Lockie Ferguson
06:48 AM
IND vs NZ 2nd ODI: NZ win toss!
Toss News from Hamilton: Kane Williamson wins the toss and New Zealand have decided to field first. India will bat first again today.
06:33 AM
IND vs NZ 2nd ODI: Toss delayed!
News from Hamilton is that the toss has been delayed by 10 minutes. Will happen at 6.40 am IST. But there is no change in scheduled start at 7 am IST. 
06:18 AM
IND vs NZ 2nd ODI: Toss coming up!
The toss news will soon be out. The players are getting ready for the game and there is no rain spotted as of now. It may fall in the coming minutes but for now, the weather is clear. Don't go anyway as we build up to the match. 
06:03 AM
IND vs NZ 2nd ODI: Is it raining in Hamilton right now?
The good news is that it is not raining in Hamilton right now. But the weather is not great in the upcoming hours. The players can be seen doing the warmups as rain has halted in the city. Keep watching this space for all updates. We will have toss at 6.30 am IST if it does not rain.   
23:06 PM
IND vs NZ 2nd ODI: India's predicted playing XI
Given the poor performances of Yuzvendra Chahal and Shardul Thakur, India may be compelled to make some adjustments. It will be fascinating to see whether Dhawan uses Deepak Chahar and Kuldeep Yadav once more. Both players are warming the bench. Chahar can initially move the ball in both directions. More significantly, Chahar brings a level of experience to the lineup that was lacking in the first ODI. Not to mention, Chahar is no amateur with a bat. He can even help form partnerships if necessary and can smash some big sixes.
22:49 PM
IND vs NZ 2nd ODI: Rain-curtailed match on the cards
Rain had a significant impact on the recently finished T20I series between India and New Zealand. However, the first ODI played in Auckland was not postponed because of the weather. The second ODI is scheduled to be played at Hamilton's Seddon Park. The second ODI is expected to be affected by rain.
 
20:44 PM
IND vs NZ 2nd ODI: Kuldeep Yadav, Deepak Chahar to make a comeback
Former India cricketer Wasim Jaffer predicts that Kuldeep Yadav, a left-arm wrist spinner, and Deepak Chahar, a fast-bowling all-rounder, could replace Yuzvendra Chahal and Arshdeep Singh in the visiting team's starting lineup for the second ODI against New Zealand at Hamilton, which they must win.
19:49 PM
IND vs NZ 2nd ODI: Will rain play spoilsport?
There is a 97% probability of precipitation and a 19% chance of thunderstorms, according to AccuWeather. Rain is anticipated to occur throughout the day for around four hours due to the 96% cloud cover. This opens up the possibility of a shorter game.
17:31 PM
IND vs NZ 2nd ODI: Shikhar Dhawan and Shubhman Gill need to play quick
Although Dhawan and Gill put on an opening partnership of 124 runs in 23.1 overs, they got off to a sluggish start since the pitch provided New Zealand bowlers with some seam and swing, which resulted in just 40 runs being scored during the power play. However, they were unable to combine their runs into a respectable total. The pair went on to each reach their respective half-centuries. Dhawan and Gill also played 46 and 38 dots in the game for dot-ball percentages of 59.74 and 58.46, respectively. Gill only had 44% of the boundary percentage, compared to Dhawan's 72.22%.
16:02 PM
IND vs NZ 2nd ODI: Deepak Chahar to make comeback in 2nd game?
Harshal Bhogale feels Deepak Chahar should make comeback in the 2nd ODI. Deepak was out in the field ahead of the 1st game but it looks like he could not clear the fitness Test. However, it will be a tough call for Shikhar Dhawan to make a change in the playing XI just after 1 game.
14:49 PM
IND vs NZ 2nd ODI: Weather Update
Bad news for Indian fans as 100 percent precipitation forecast as per accuweather in Hamilton. This is the place where the 2nd ODI is to be played. But like we have seen before, the weather may change on that particular day. We have to keep our fingers crossed. 
14:30 PM
IND vs NZ 2nd ODI: India aim comeback win
Hello and welcome to our coverage of 2nd ODI between India and New Zealand on our live blog here. India, led by Shikhar Dhawan, will be aiming for a win in Hamilton to ensure the series is alive. Kane Williamson's side will be pretty confident ahead of the match after a dominant win in the 1st ODI at Auckland. 
Watch this space as we begin our build up for the match that is to start at 7 am IST tomorrow.