Delhi Metro improves connectivity to Terminal 1 IGI airport, inaugurates subway for passengers
To strengthen connectivity to IGI Airport's domestic terminal - T1, Delhi Metro Rail Corporation has integrated a new subway, which connects the Terminal to Magenta Line,
The new subway connects Terminal 1 with Magenta Line of Delhi Metro
Delhi Metro inaugurated the 130-metre-long underground subway today
The subway opens on the arrival terminal of the domestic airport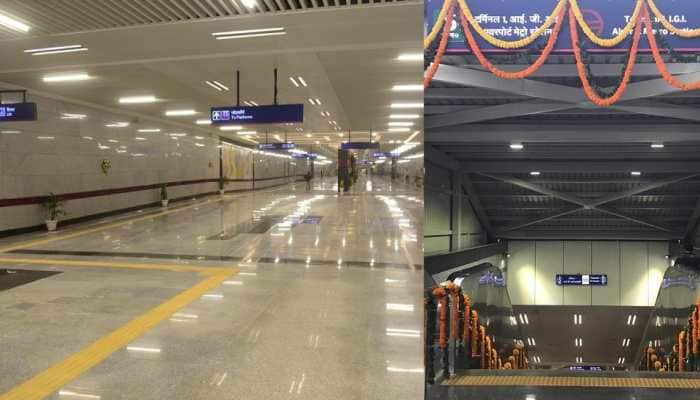 Delhi Metro is a routine for many Delhites, as the service offers connectivity to the most extreme corners of the city, including its neighbouring cities as well. However, the connectivity to the Terminal 1 of the IGI Airport remained a distant dream. Not anymore though, as Delhi Metro Rail Corporation has today inaugurated a new subway that connects the Arrival Terminal of the National Capital's domestic airport to the Magenta line. The 130-metre-long subway is completely underground, and it was inaugurated in the presence of Vikas Kumar, Managing Director of Delhi Metro Rail Corporation (DMRC).
A 130-meter-long underground pedestrian subway providing connectivity b/w Terminal 1-IGI Domestic Airport Metro Station of Magenta Line & Arrival Terminal of Domestic Airport Terminal 1 of IGI Airport, was opened for the public today in the presence of Sh. Vikas Kumar, MD/DMRC. pic.twitter.com/JJseC8WMAV — Delhi Metro Rail Corporation I कृपया मास्क पहनें (@OfficialDMRC) January 4, 2023
A senior DMRC official said that each entry and exit of the subway has two escalators and two lifts each along with a staircase. The lifts, which have been installed in the subway for passenger movement, are more spacious than the general lifts installed in the Metro system and have a capacity of carrying about 26 people. The subway has also been decorated with attractive artwork in line with DMRC`s efforts to depict the rich heritage of the region, added the official.
Also, Delhi Metro Rail Corporation (DMRC) on Tuesday, has removed two of its employees, involved in unauthorised recharge and selling of Metro Smart Cards to people at discounted rates outside Metro premises, officials said. DMRC officials caught two employees, one from DMRC and another working as a Customer Care (CC) operator at Qutab Minar Metro station from an outsourced agency, who were engaged in the unauthorised recharge and selling of Metro Smart Cards to people on discounted rates outside Metro premises.
Also read - DMRC removes staff selling Delhi Metro cards illegally at discounted rates
"Keeping in mind this incident where Metro Smart Cards were sold unauthorizedly outside Metro premises, the public is advised to always purchase the Smart Cards from Metro stations only. Delhi Metro Smart Cards are officially sold from station ticket/customer care counters," an official statement read.
With inputs from agencies.
Live Tv