God resides where women are worshipped.
It is in a country that truly believes in the above that five years have passed since the horrific Nirbhaya gang-rape incident. This incident did not just absolutely shock the entire country but infuriated it. As a result of this very anger, there were some improvements made in the law of the land and punishments were made stricter. However, what is even more shocking are the statistics despite stricter laws protecting women in the country. Recently, the National Crime Records Bureau released a report titled 'Crime in India 2016'. The numbers are an eye-opener.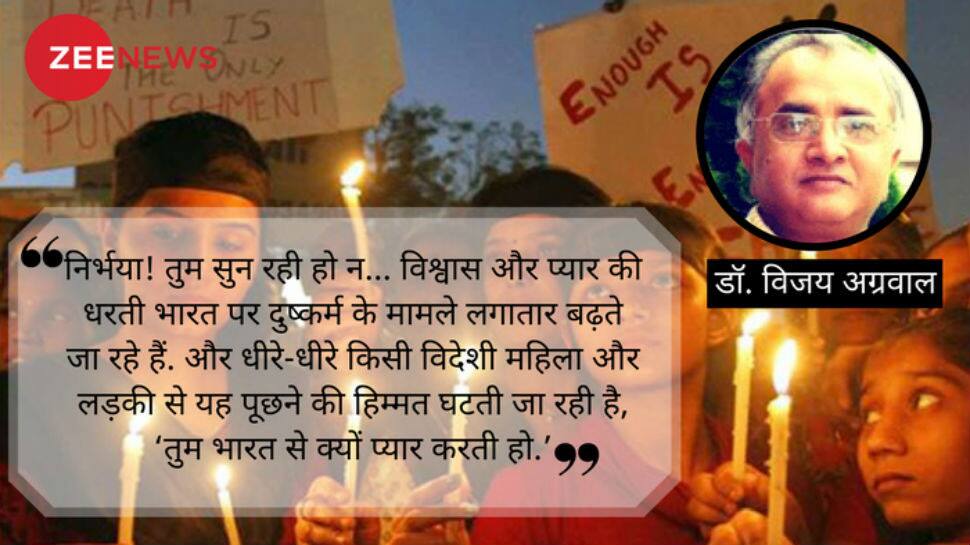 According to the report, there has been an increase of 12.3 per cent in incidents of crime against women. Yes, 12.3 percent rise - double of India's GDP growth figures. In this, my home state - Madhya Pradesh - has topped. I am mentioning Madhya Pradesh specifically because it is in this state that the Chief Minister has claimed to have maintained an 'Uncle-Niece' relationship with women in the state for the last 12 years. Therefore, it is better not to look at other states if this is the situation in Madhya Pradesh. This is the reality here.
Through two real-life incidents, I will now try to shed light on the reality that is about how Indian men and women as perceived abroad.
The first incident is from just a few months back in Germany. In a restaurant there, I saw a white woman with a man with a wheatish complexion. The two of them sitting together made me curious. I initiated a conversation with them during which I found out that while the woman was German, the man was of Indian origin. On a lighter note during the conversation, I asked the woman what made her marry an Indian man and the reply was not what I was expecting. She said she married him because Indian men are the most trustworthy.
Perhaps she had not yet heard of the Nirbhaya incident.
The second incident is from about two decades ago and from Chile. We were walking down a street when we came across a group of about four to five young men and women. We folded our hands and said Namaste. They asked us if we were from India. When we said yes, the group collectively replied - We love India. Our chests swelled with pride. When I asked them why they loved India, they said because 'India is a land of love.'
Nirbhaya, are you listening?
It is in this land of trust and love that heinous crimes are on the rise. And with it, the courage to ask a woman or a girl abroad why she loves India is diminishing.
(Disclaimer: The opinions expressed above are the personal views of the author and do not reflect the views of ZMCL.)
(Note - This blog was originally written in Hindi)