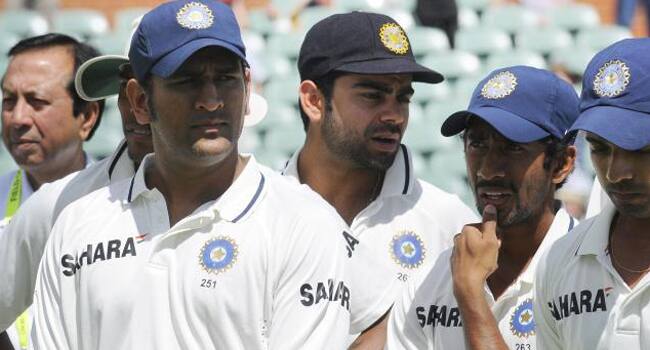 Biswajit Jha
So, India lost the Eden Test comprehensively after being thoroughly beaten by the touring England side in Mumbai. It was India's first back to back Test defeat after 12 years. England, who now lead the 4-match series 2-1, look all set to win it on Indian soil, a feat they last achieved 28 years back. The David Gower-led English team had won 2-1 in the 1984-85 series.
In my last article, I had stated that India would struggle in the coming days after the departure of Rahul Dravid, VVS Laxman and the imminent retirement of Sachin Ramesh Tendulkar and the lack of quality reserve players. It is not possible to replace these stars overnight. The great Australian teams of 1930s and 1940s, 1970s, 1990s and 2000s, and the West Indies of 1980s- every team has gone through this phase.
Australia struggled almost a decade before they established themselves as a fine team under, first Allan Border, and then Mark Taylor. The legacy was successfully carried forward by Steve Waugh and Ricky Ponting in the subsequent years. But like every dynasty, the great teams also disintegrate. And it always takes some time before they again re-establish themselves.
After the retirements of Matthew Hayden, Justin Langer, Glenn McGrath, Shane Warne and Adam Gilchrist in and around the end of the last decade, Australia had become a shadow of their own selves. Though Ponting was there but he could not prevent the slide. They lost initially but slowly they started to win again against the formidable oppositions. Their 4-0 series win over India attests to the fact that they are again back as among the top four Test nations, if not the best. Despite their recent series loss to South Africa, it was a hard-fought series with Australia dominating the first two Tests which ended in draws.
All these were no mean achievements considering the appalling state they were in after the mass exodus of their greats. Their skipper Michael Clarke led from the front. Some fine young players - openers David Warner, Ed Cowen, pacers Mitchell Starc, James Pattinson, Patrick Cummins, spinner Nathan Lyon, wicketkeeper Mathew Wade - have shown that they have it in them to succeed in international cricket and serve the Australian cricket in the days to come. The result is Australia have seen off the transition phase more or less successfully and are ready to excel as the top cricketing nation again.
India, too, are facing the same scenario after their senior pros decided to pull the curtains on their illustrious careers one by one. Why should India follow Australian model of rebuilding is because of the fact that they find themselves in the similar situation what the Australian team faced in 2008-09, but in 3-4 years they have successfully overcome the transition period with some reasonable performances.
One of the reasons why Australia did not find it hard to get enough talented players is the strength of their domestic cricket which keeps producing quality players. Unlike India, the gap between first class and international cricket is not that huge. The players, who perform well there, generally find it relatively easy to cope up with the demands of international cricket compared to Indian cricketers.
When Mike Hussey made three triple tons in the first class cricket, it was almost guaranteed that he was predestined to be a good player. Hussey was born in a generation that produced so many greats. But when he got the opportunity to wear the baggy green relatively late, he did not find it hard to score heavily at the international level. The pitches are so versatile and the oppositions are so strong in Australia that the mediocre cricketers can't set things on fire over there.
Here the problem is that the pitches are sometimes so heavily tilted towards batsmen that players like Ravindra Jadeja, who is not a proper batsman, scores two triple tons within a month. If runs are the only criteria, there is no question over Jadeja's selection for the fourth Test. But if the criterion of selecting a team is only runs then why are Manoj Tiwary, Rohit Sharma, and Robin Bist, the highest scorer in the last domestic season, out of the team?
Selecting a team is a tricky job. It becomes more important when the team is going through a rebuilding phase. Here runs may not be always that important. Selectors have to find out: Do those players posses the nerve and temperament to succeed at international level? Australia chose spinner Nathan Lyon from almost obscurity after finding it very hard to replace redoubtable Shane Warne for almost two years. Nobody imagined that big hitting opener David Warner, who was thought to be only a good T20 player, would turn out to be a good Test opener too. The Australia selectors never hesitated to drop opener Simon Katich despite facing severe backlash. Even the great Ricky Ponting was dropped from the ODI side when he was not making runs. Cricket Australia knew the importance of selectors and that's exactly why they appointed John Inverarity, a man with an impeccable integrity, a theorist of the game and a visionary, to head the selection panel with absolute power at a time when their team was facing the most difficult times in last 20 years.
It's appreciable how he managed the period successfully. When Ricky Ponting found that he was struggling to inspire the young generation, he quit. The decision to appoint Michael Clarke was so spot-on that under him the Kangaroos have again started performing well.
Like Australia, we need a proper transition plan. It should have been already in place before the retirements of Rahul Dravid and VVS Laxman. It is high time now that we identify talents and start working on them. The Sandeep Patil-led selection committee has to play a prominent role and take some hard or unpopular decisions if necessary. It is their job to decide the fate of the players. They are being paid to do so.
Since ageing Virender Sehwag has been struggling as an opener on the fast, seaming pitches, he should have been asked to bat at No. 5 or 6. This would have made it possible for Ajinkya Rahane to open the innings in Tests. The selectors, captain and the coach should play a proactive role in selecting the team which can serve India for a long time.
Why we need a proper plan to rebuild the side is because during the transition period some people tend to look for short-cut route to success. Sensing their positions are under tremendous pressure after their eight consecutive defeats in England and Australia, every Indian senior player wanted rank turners against the touring English side. Despite losing so badly on foreign soil, they remained in denial as if all the problems would be solved once they play on the home tracks. This is a completely myopic vision silently supported by a board which took no rectifying measures after the drubbing. Had it been in Australia, openers Gambhir and Sehwag, who had not scored a century in last two years, and skipper MS Dhoni, who also had awful record as a batsman in the last couple of years, would have been thrown out. They could not be because in India individuals are more important than the team, and present success is, however temporary it might be, always more important than future concerns.
It's time that the BCCI sets its priorities right. If they think that performance in Test cricket really matters to them, they have to act that way. As of now, it seems that they are more concerned about earning money through IPL rather than building a strong Test team, a team which will dominate all over the world. The Indian cricket board has to urgently restructure the domestic cricket.
BCCI might argue that there is nothing wrong in the system as Indian team won the World Cup or clinched the No. 1 spot in Tests within the last few years. But those highs were achieved in spite of the system not because of the system. That's why the highs were so short-lived.