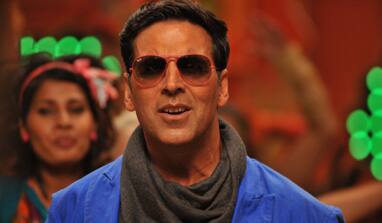 Resham Sengar
It is a fact not known to everyone that Akshay Kumar is a man of wit and humour even when he is not kicking butt on the big screen and this quality of his was evident in the way he effortlessly handled the questions shot at him during a press interaction for his latest film 'Khiladi 786' in the satellite town Gurgaon.
The Khiladi Kumar, who came with his co-actor Asin Thottumkal in tow, was questioned for landing more than an hour late for the press meet by one of the media persons present in the room. The quick-witted Akki said, "I was told to come at this time. So darling, please don't ask me this question. I am very punctual. And I feel very proud to say that."
As compared to Akshay's other 'Khiladi' movies, 'Khiladi 786' is replete with even more deadly and gravity-defying stunts. And one of them required the actor to jump from a height of 45 feet. So, when quizzed on why he decided to perform the sequence, the stunt-loving actor's answer was simple and clear: "First of all, no one should attempt to do that. But I do it because I practice it, enjoy it and at the same time I train for it. I do it for my passion for stunt scenes. There are people on the sets to take care of me and there is an ambulance too."
Akshay's 'Khiladi' films have borne fruits for him in past and with 'Khiladi 786' the actor has kept his hopes high that this time too the audience give thumbs up to the action-comedy.
With hot shot actors reigning Bollywood, Akshay was asked for his opinion on who else he thinks is best suited to be called a Khiladi, to which he coolly replied, "The industry is filled with Khiladis. So there is nothing such that there is only one Khiladi in Bollywood. Any one can be a Khiladi."
'Khiladi 786' is a catchy title and an intriguing one too given the fact that the numbers 786 are considered sacred in the Islamic faith. So it was obvious that this question will be put forward before Akki.
And here's what he answered, "786 mean bismillah, to begin something in the name of God. In the movie's story the protagonist palm lines resemble the number 786 which means that he is blessed with God's grace and no one can harm him. But the interesting part of the story is what if something bad happens to the hero. So the movie explores that possibility as well. That's why it was important to name this film as 'Khiladi 786'."
With the film's co-producer and actor Himesh Reshmmiya making statement that only Akshay is the real hero in the film while the rest are extras did raise a lot of eyebrows but Akshay chose to take a more mature and diplomatic approach while commenting on Himesh's controversial statement. "I would not call them (the other actors) as extras. Others are very much important as much I am important. May be I am important than them a little bit more but they are also a very important part of the team. For example, without Himesh I would not have got so many good songs. Even Himesh has played a crucial role in the film.
Actress Asin Thottumkal, who plays Akshay's love interest and a Marathi girl in the movie, could not stop herself from singing praises in the name of the former. "Akshay is a positive person and he encourages me to work in a better way. As an actor he is very disciplined and punctual. It is a myth that disciplined people are snobbish. Akshay is fun loving.
So what is so extraordinary about 'Khiladi 786' that will pull the crowd to the theatres? "It is a fun film and it is a complete family entertainer that you can watch with your entire family. The film won't disappoint you. You will come out of the theatre with a smile on your face after watching the film. Even the movie's songs composed by Himesh Reshmmiya's have done well. The audience will love the film's over-the-top action scenes besides many other good things," explained Akshay.
'Khiladi 786' opens in theatres on December 7, 2012.