PATNA: Rashtriya Janata Dal leader Tej Pratap Yadav on Thursday took out a 'cycle yatra' in Patna to protest against the rising petrol and diesel prices across the country. However, Yadav might not have anticipated the embarrassment that he would have to face. While riding the cycle with his aides, Yadav suddenly gained pace. Just as he was about to take a turn at the roundabout, he lost his balance and fell to the ground.
As his aides and security men around him rushed to his help, an embarrassed RJD leader quickly got to his feet. Several people present at the spot recorded the video through their mobile cameras, a footage that is now being widely shared.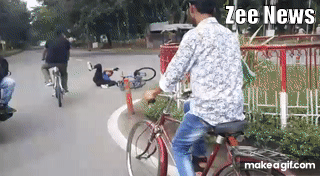 Taking out the yatra, Yadav said that due to rising prices, cycle seems to be a good alternative for travel. "Petrol and diesel have become costlier, so it is best to ride a cycle now, it also helps to stay healthy," he had said earlier in the day.
Tej Pratap was the health minister in Bihar before Chief Minister Nitish Kumar broke its ties with the RJD. Ever since, Tej Pratap along with his brother Tejaswi, has mounted several attacks on Nitish.
#WATCH RJD leader Tej Pratap Yadav tumbles to the ground during a cycle rally in Patna earlier today pic.twitter.com/ulgdH4GZYx

— ANI (@ANI) July 26, 2018
Tej Pratap has been in news lately but not due to his contribution to the RJD or any political actions. He recently got married to former Bihar minister Chandrika Prasad Rai's daughter Aishwarya Rai, an event that garnered many eyeballs and was attended by several famous politicians.
Just a few days back, Tej Pratap also tweeted a photo of a poster of his upcoming movie "Rudra - The Avtar", which is his debut into Hindi films after a Bhojpuri film.
In the teaser poster, Tej Pratap can be seen in a pair of aviators and is captioned: "Coming soon".