Pulwama attack: India sends strong message to Pakistan, soldiers given full freedom
Retaliation - militarily, economically and diplomatically - has been initiated with Prime Minister Narendra Modi saying soldiers have been given full freedom with regards to their response to the Pulwama attack.
New Delhi: With demands for making Pakistan pay dearly for harbouring a terrorist organisation responsible for Thursday's dastardly attack on a CRPF convoy, India sent out a strong message to its nefarious neighbour. Soldiers have been given full freedom to retaliate. The status of 'Most Favoured Nation' revoked and the international community updated with ground realities.
India's three-pronged retaliation - military, economic and diplomatic - is underway.
(Also read: Rajnath Singh lends his shoulder to CRPF soldier's mortal remains)
Friday was a sombre day with the mortal remains of the 40 martyred CRPF personnel brought to Delhi's Palam Airport where PM Narendra Modi - hands folded and head bowed - paid his final respects. Others present were Home Minister Rajnath Singh, Defence Minister Nirmala Sitharaman, Congress President Rahul Gandhi and the three defence chiefs. The mortal remains were then sent to their respective native places.
The mood at Palam may have been sombre but elsewhere in the country, anger reached a crescendo.
Protests against Pakistan were carried out in several cities with the call for affirmative action against a country which has a proven track record of using terrorist organisations to wage proxy wars on India. Jaish-e-Mohammad, the group which has claimed responsibility for Thursday's attack, has long been known for getting support from Pakistan's ISI. Rajanth, who was in Srinagar earlier in the day, minced no words to slam 'elements' which worked with ISI to bleed Jammu and Kashmir. "There are some elements that work with the ISI and play with the future of Jammu and Kashmir. Others take money from Pakistan and the ISI. I have sought that a security review of such persons be done," he said in what was a warning to Kashmiri separatists as well.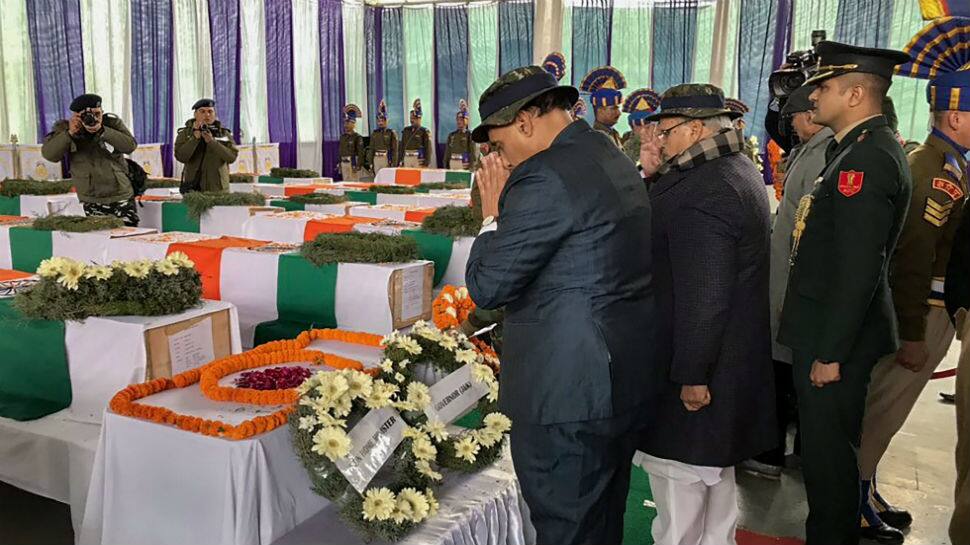 This was followed by a message from PM Modi who said that India will reply to the Pulwama attack in the strongest possible manner. "I want to tell the terrorists and their backers, they have made a big mistake. You will have to pay a very heavy price. I assure everyone that the forces behind the attack will be brought to justice. Security forces have been given permission to take decisions about the timing, place and nature of their response," he said.
Meanwhile, India revoked the 'Most Favoured Nation' status given to Pakistan and called back its envoy to Pakistan - Ajay Bisaria - for consultations. Pakistan High Commissioner to India - Sohail Mahmood - was also summoned and a strong protest was lodged.
It was just the start of diplomatic positionings.
India briefed P5 countries - permanent members of the Security Council, including China - of the situation. This was followed by MEA holding meetings with representatives from 25 diplomatic missions in India. It was in line with what union minister Arun Jaitley said earlier in the day. "Every possible diplomatic measure would be taken to ensure that Pakistan is isolated in the world community," he had told reporters in the presence of Sitharaman.
At a time when the entire country - including the political fraternity - has united to not just condemn the Pulwama attack but in backing the government to take retaliatory steps, an all-party meeting has been called for Saturday at 1100hrs in the Parliament library.
Saturday could also see more concrete steps being taken to ensure Pakistan realises its follies even as on-ground investigations are expected to be taken forward. An NIA team with forensic equipment reached Awantipora - where the attack occured - to assist with the investigations. Civilian vehicles near security convoys have been banned while mobile internet services have been shut in south Kashmir. It is recognised as an inconvenience to locals but such measures are stated to be the need of the hour considering the situation at hand.