One of the greatest spectator sports of our times are Indian elections and these elections in Gujarat (and Himachal Pradesh) seem to have caught the country's imagination in a manner that is unprecedented. Exit polls perhaps seek to spare us of some suspense and satiate our perpetual need to know 'Who's winning?'. The actual results will only be known on Monday, December 18, when the votes sealed in EVMs in Gujarat and Himachal Pradesh will be counted. Till then the exit poll numbers keep the debates fuelled.
(In pics: When PM Modi stood in queue to cast his vote)
While pollsters have not gotten it right in previous polls — whether it be the 2014 Lok Sabha elections or the state assembly polls in Uttar Pradesh earlier this year, where most failed to predict the huge margin the BJP eventually won by — these numbers are, at best indicative of trends in these polls.
All the exit polls this time have surprising unanimity giving the BJP somewhere in the vicinity of 110 seats in Gujarat's 182 member assembly, the Congress about 70 seats — thereby suggesting that Prime Minister Narendra Modi's party would win a sixth-term in Gujarat, a state the party has held since 1995.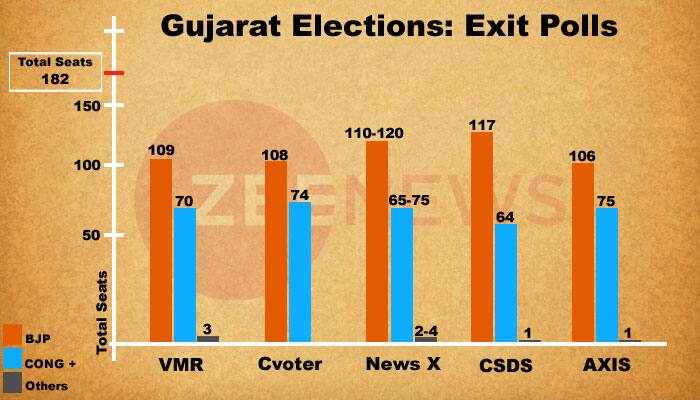 Pollsters are also in agreement over the change of guard in Himachal Pradesh. Here, if exit polls are to be believed, the Congress will be swept out of power and the BJP will win big — about 50 of the 68 seats in the state assembly.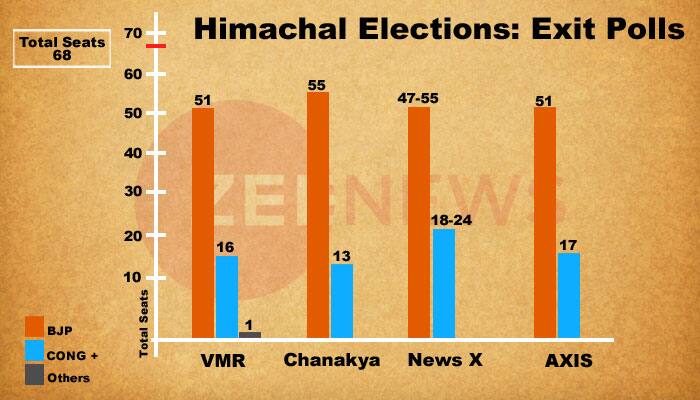 Congress Weeps?
These exit polls don't give the Congress and its new president Rahul Gandhi much to cheer about. They're losing power in Himachal Pradesh and, if these results are indicative, haven't been able to make a great dent in the Bharatiya Janata Party's base in Gujarat. In a state where incumbency should've been high and easy to capitalise on, Rahul Gandhi held over 30 rallies, visited 12 temples and traversed (taking into account road distances) almost 25,000 kilometres. From Unai Mata in Navsari to Jagganathji in Ahmedabad, it seems the Gods have not favoured Nehru-Gandhi scion.
These polls were billed as the litmus test for the Congress president — pundits say he has displayed political maturity and ran a good campaign in a state that was almost too difficult for the BJP to lose. But that is akin to making a century in a match your team loses. A cameo 30-40 runs in a winning cause is much more memorable and valuable.
In the run-up to the 2019 Lok Sabha polls, Rahul Gandhi can ill afford to play well and still lose. If not Gujarat, he must show gains to rejuvenate a party that was reduced to 44 seats in the Parliament in 2014. The Congress hasn't put up a good showing at the hustings after the BJP swept to power in 2014 - and the BJP has won virtually everything in 2017, the odd student election here and there notwithstanding.
The party's campaign in Gujarat was hurt by a self-goal scored by Mani Shankar Aiyar, who referred to the PM as 'neech' - and that quickly degenerated into a back-and-forth of acerbic rhetoric - where the BJP may have come out on top. The Prime Minister's message of 'Vikas (development)' and 'Vanswaad (dynastic politics)' was given a fillip by Rahul Gandhi's elevation as Congress party president in the middle of the campaign.
Rahul Gandhi's new-found brothers-in-arms, Jignesh (Mevani), Alpesh (Thakore) and Hardik (Patel) — who did much of the heavy lifting — seem to have had too little an influence to sway substantial numbers away from the BJP. Rahul may look back and say he combined all the anti-BJP forces in Gujarat but in our first-past-the-post system, Westminster-style democracy, vote share and margins of victory are a loser's consolation prize that may help win some brownie points on TV debates.
Modi Magic Works
If the pollsters haven't led us astray, these polls have definitely reiterated how Prime Minister Narendra Modi's charisma works. His campaign - 34 rallies in Gujarat — were perhaps the swing factor for the BJP. It would also prove that the BJP's party machinery has almost perfected the template for winning elections - after years of minority and coalition governments in India.
Just as a reminder that these are just exit polls, and most come with a caveat that they've accounted for how people voted in the second phase in Gujarat till 2 pm, may the best man win on Monday.
(Disclaimer: The opinions expressed above are the personal views of the author and do not reflect the views of ZMCL.)