Mumbai: One of Indian cinema's finest artistes- Irrfan Khan – is suffering from a rare disease. The method actor had shared this shocking news on Twitter a couple of days ago and had requested people to not speculate until he himself shares further information about his health condition.
However, rumours have been rife that the actor has contracted brain cancer –GBM Grade IV.
But Khan's manager has refused to comment as the family awaits the final reports from the doctor. Here's a screen shot of the manager's response to a blog post: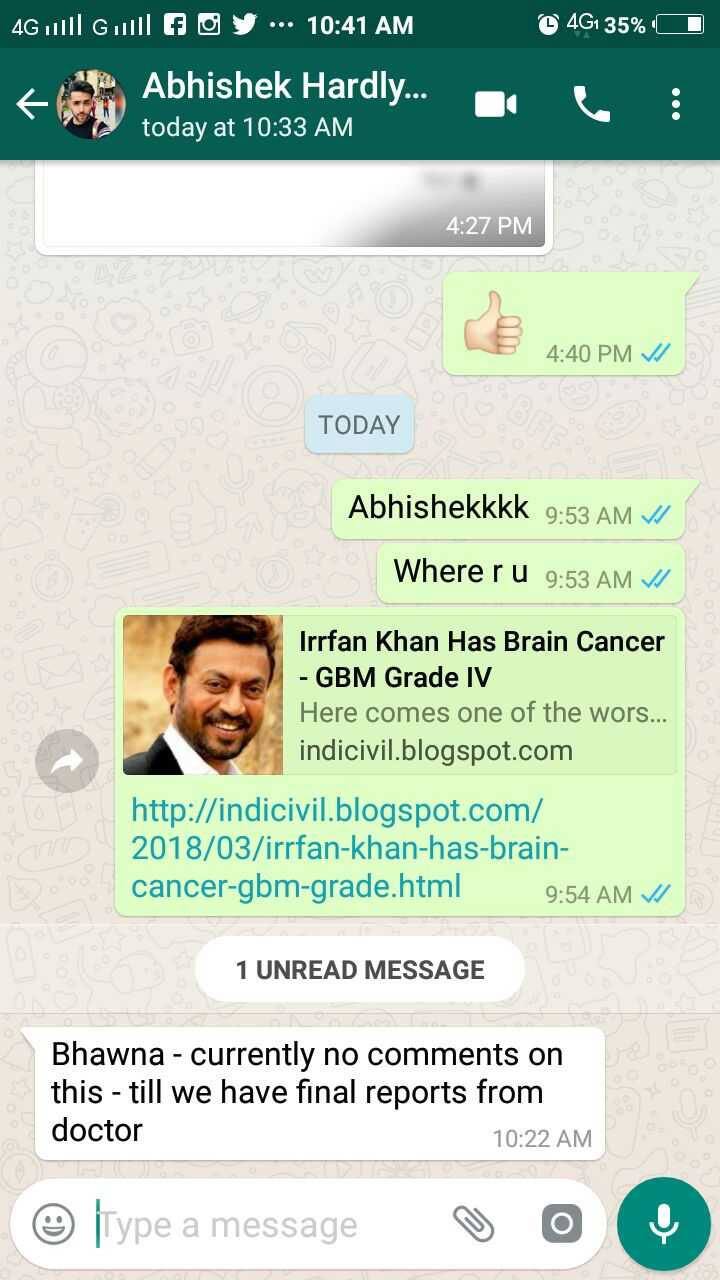 Here's what Irrfan had tweeted on March 5:
"Sometimes you wake up with a jolt with life shaking you up. The last 15 days, my life has been a suspense story. Little had I known that my search for rare stories would make me find a rare disease. I have never given up and have always fought for my choices and always will. My family and friends are with me and we are working it out the best way possible. In trying times, please don't speculate as I will myself share with you my story within a week - 10 days, when further investigations come with a conclusive diagnosis. Till then, wish the best for me. (sic)"
— Irrfan (@irrfank) 5 March 2018
Irrfan is not just a big name in Bollywood. He has fans across the globe. He has been a part of a number of international films and the list includes - The Namesake, The Darjeeling Limited, the Academy Award winner Slumdog Millionaire, Life of Pi, New York, I Love You, The Amazing Spider-Man, Jurassic World, and Inferno.
Earlier this month, filmmaker Vishal Bhardwaj decided to postpone his next project tentatively titled Rani with Deepika Padukone and Irrfan. Bhardwaj wrote: "Pushing back film by a few months, Irrfan Khan down with jaundice and Deepika Padukone with resurfaced back issue caused during Padmaavat. While prepping, was transported to Maqbool days. Stunning look tests, can't wait to start shoot. Sending pyaar & duaaen to my Ustara and Afshan."
Rani would be the fourth collaboration between Irrfan and Bhardwaj after critically acclaimed films such as Maqbool, Saat Khoon Maaf and Haider.
Here's wishing Irrfan speedy recovery.