Maruti Suzuki Jimny vs Force Gurkha Comparison: Which One is a Better Off-Roader? Design, Specs, and More
Maruti Suzuki Jimny will surely be giving a tough fight to the Force Gurkha, but here's how the duo fare against each other on paper.
Maruti Suzuki Jimny is expected to launch at a shade over Rs 10 lakh
Jimny will retail in two variants, while Gurkha sells in just one trim
A petrol engine is used on Jimny, whereas Gurkha uses an oil burner
Boxy cars with high-riding stances and immense off-roading capabilities are a delight to drive, own, and watch doing their things. For these very reasons, Mahindra Thar and Maruti Suzuki Gypsy enjoyed a strong cult for a long era without many changes. However, with the arrival of the new-gen Mahindra Thar, a new lease of life was infused in the lifestyle off-roader segment. The Force Gurkha soon followed the Thar, and at the Auto Expo 2023, Maruti Suzuki Jimny broke cover. The latter is quintessentially the new-gen Gypsy and will take on the likes of the Mahindra Thar and Force Gurkha. Yes, it has a smaller footprint but the same purpose to serve. While we have compared the Jimny and Thar earlier, this time around, we thought of putting the Maruti Suzuki Jimny against the Force Gurkha.
Maruti Suzuki Jimny vs Force Gurkha - Design
The design for both of these SUVs is very similar, with an upright and boxy appeal. Also, they are often said to be taking inspiration from the Gelandewagen. While the Maruti Suzuki Jimny sports a 5-door architecture, the Gurkha manages with a 3-door layout. The Jimny also has a flatter roof line in comparison to the Gurkha.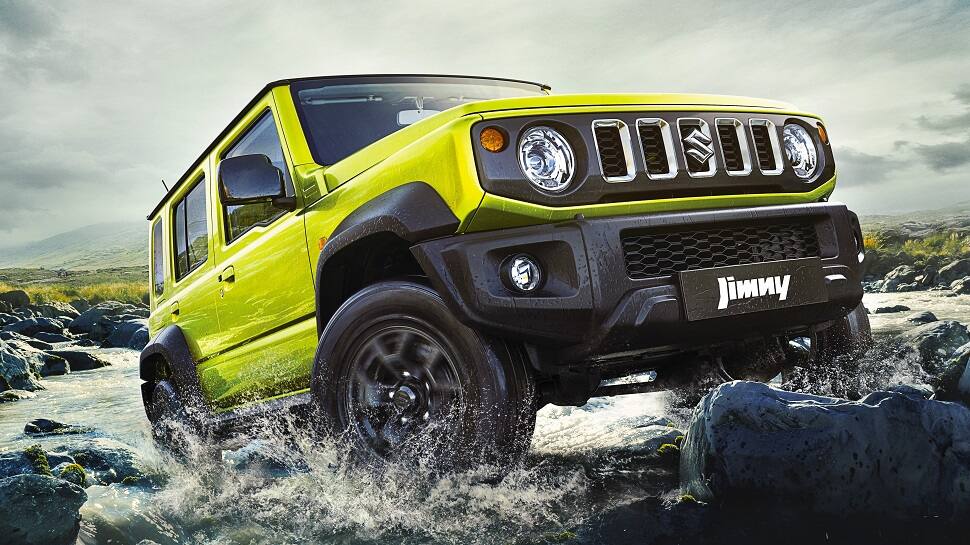 While both the models get tailgate-mounted spare wheels, the Gurkha also comes with the option of a factory-fitted roof rack and ladder. SUV essentials like black cladding and squarish wheel arches are present on both cars. The circular headlamps are again common on both models, but Gurkha gets G-Wagen-style turn indicators, mounted over the bonnet.
Maruti Suzuki Jimny vs Force Gurkha - Dimensions
The Maruti Suzuki Jimny in India comes with two extra doors as compared to the international-spec model, but unarguably, it is compact. The Gurkha, on the other hand, is huge in comparison. The Jimny measures 3,985 mm long, 1,645 mm wide, and 1,720 mm tall. It gets a 208-litre boot space, and the wheelbase is 2,590 mm long. The Jimny rides on 15-inch rims, wrapped in 195-section tyres with an 80 aspect ratio.
Force Gurkha with the road presence of a Tata 407, is 4,116 mm long, 1,812 mm wide, and 2,075 mm tall. The off-roader has a wheelbase of 2,400 mm, while the trunk capacity stands at 500 litres, which is close to water tanks installed in most households in India. The tyre size for the Gurkha is 245/70 R16.
Maruti Suzuki Jimny vs Force Gurkha - Interior
Step inside the Jimny, and it does feel modern, robust, and rather appealing. The Gurkha, however, is a step up from the last-gen model, but still feels archaic and crude. The Maruti Suzuki Jimny offers easy access to the cabin with four doors and not very high-set seating, which comes up as an issue on the larger Gurkha.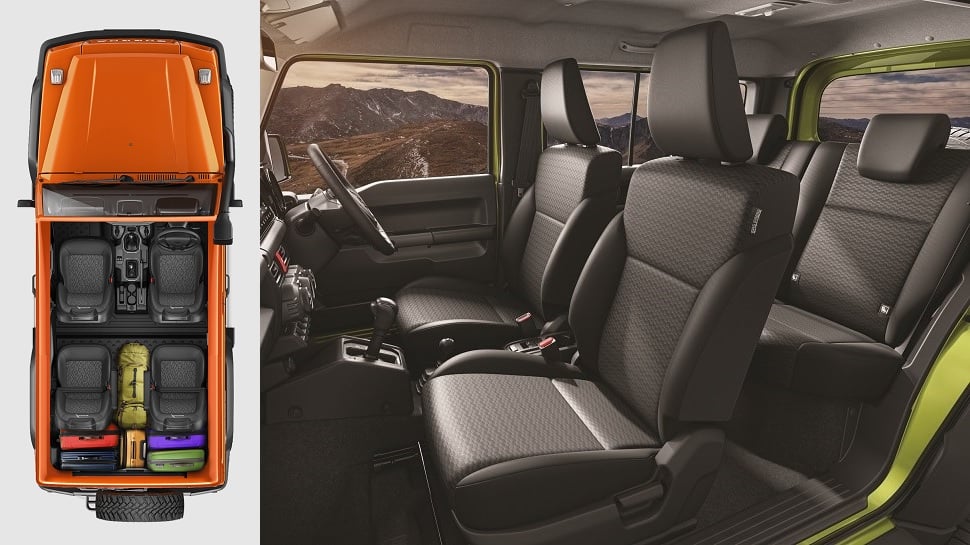 Also, the Jimny gets a bench for the second row compared to Gurkha's independent chairs. Talking of materials used on the inside, the Jimny feels more appealing and Gurkha. Although, the Gurkha offers more space on the inside, along with the sense of riding a big vehicle.
Also read - 2023 Maruti Suzuki Jimny: Explaining Chronology of 4 Generations of Offroader
Maruti Suzuki Jimny vs Force Gurkha - Features
The Jimny is loaded to the gills with features like headlamp washers, LED headlamps and fog lamps, steering-mounted audio controls, cruise control, power windows, keyless entry & go, Android Auto, Apple Carplay, reverse parking camera, 6 airbags and more. The Feature list on the Force Gurkha is not short either. It comprises a touchscreen infotainment unit with Android Auto & Apple CarPlay, remote central locking, power windows, power windows and more. However, the touchscreen infotainment unit and TPMS look like an aftermarket setup.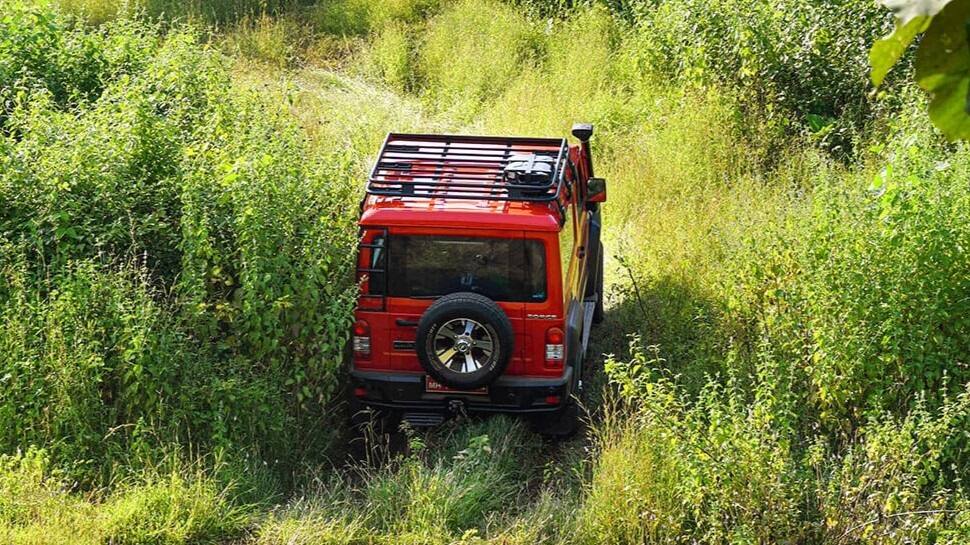 Maruti Suzuki Jimny vs Force Gurkha - Engine & Gearbox
Under the clamshell hood of the Maruti Suzuki Jimny sits a 1.5L, 4-cylinder, naturally-aspirated petrol motor. Belting out a peak output of 105 and 134 Nm, the motor is available with two gearbox choices - 5-speed MT and 4-speed AT. While these numbers are not impressive, we should note that Jimny tips the scale at only 1,200 kilos. The Gurkha uses a Mercedes-Benz-derived 2.6L oil burner, capable of developing 91 PS against 250 Nm. The gearbox is a 5-speed stick shifter here. The low-end and mid-range grunt are strong attributes of this engine.
Maruti Suzuki Jimny vs Force Gurkha - Off-road Credentials
Both off-roaders are capable at their job and come with potent 4x4 drivetrains. The Maruti Suzuki Jimny comes with solid axles on both ends, and it also gets a low-range transfer case. Moreover, the off-roader's centre differential gets locked in the 4H and 4L modes. While it misses out on differential locks, it does get brake-locking axles on both ends. It has a 36-degree approach angle, a 50-degree departure angle, and a 24-degree ramp-over angle. The Jimny gets a ground clearance of 210 mm.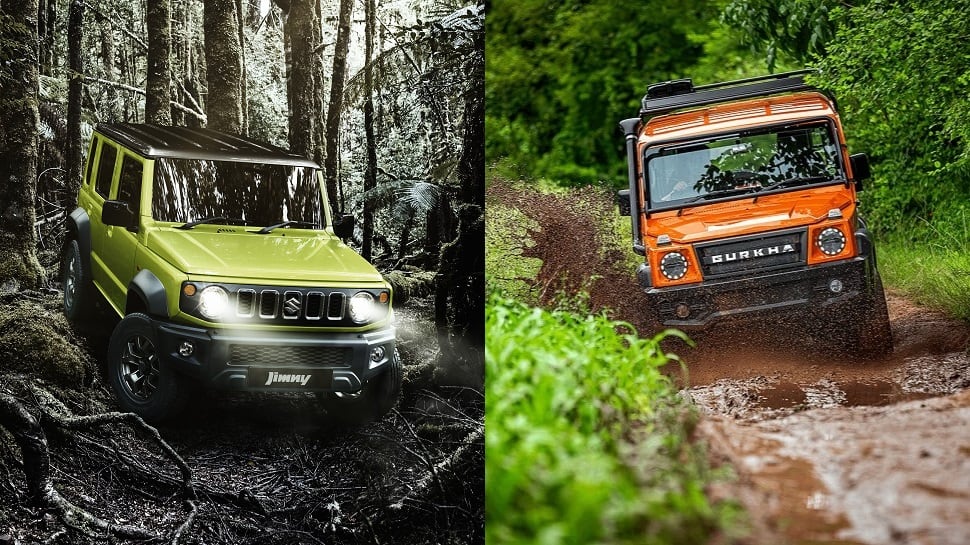 Moving on to the Force Gurkha, it uses independent front suspension with a solid axle on the rear. It gets 3 differential lockers for the front, rear, and centre diffs. It has a ground clearance of 205 mm, while it gets a water wading depth of 700 mm. Approach and departure angles on the Gurkha are 27-degree and 35-degree, respectively. The ramp-over angle, on the other hand, is 25 degrees.
Live Tv