Lok Sabha Election 2019: Day before counting, Congress and BJP spar over EVMs
Wednesday (May 22) was a day of accusations and counter-accusations as political parties geared up for the countdown to Lok Sabha election 2019 results. With the Election Commission making it clear that there would be no changes in the counting procedure, Congress cried foul and BJP hit back with firm intent.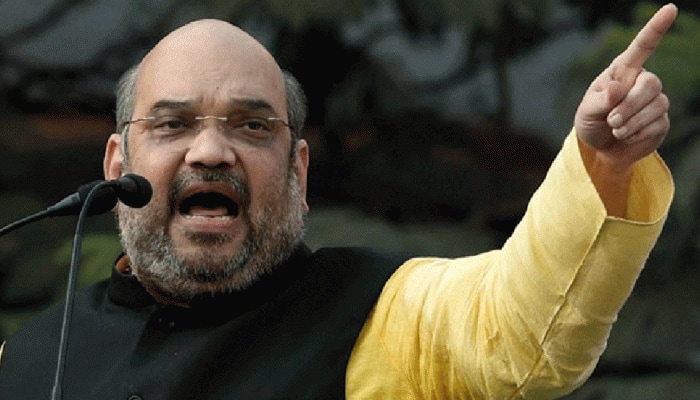 Lok Sabha election 2019 has seen accusations and charges galore throughout its course over the last several weeks. With just a day left for Lok Sabha election 2019 result, Congress and BJP once again engaged in a tussle on Wednesday as the former alleged bias from Election Commission while the saffron party claimed Opposition feared lurking defeat.
In less than 12 hours, counting for 542 Lok Sabha seats will begin across the country. Central paramilitary forces have been deployed for security of strong rooms in which the EVMs have been kept. The Election Commission has also set up 24-hour Control Room to monitor complaints relating to EVMs.
Here are the highlights from all the election-related developments that took place on Wednesday:
* Lok Sabha election 2019 now enters its final few hours before counting day dawns on the country. All the appeals, every prayer and each outreach will now either sail or fail for political parties in the country who could have a sleepless night before counting. Zee News will be tracking every single development and will present quick, accurate and in-depth analysis. So stay tuned for what promises to be a 'Thriller Thursday.'
* As Congress continues to cry foul even before a single vote in Lok Sabha election 2019 being counted, BJP has maintained the counter-attack. Leaders like Ram Madhav, Rajyawardhan Singh Rathore are few among many to have joined party president Amit Shah in flaying the Opposition for having doubts over EVMs.
* Ministry of Home Affairs has alerted state chief secretaries among others about the possibility of violence in various parts of the country during counting of votes. It has asked state administrations to ensure law and order is not compromised.
* Dr K Sudhakar, Congress MLA from Chikballapur, backs EVMs. "I tweeted in the morning that there is no truth in allegations that EVMs are hacked. We must believe in democracy because when we win at accept and if we lose then we blame EVMs. ECI should try and address the suspicions of the opposition parties, it is its responsibility."
* Amit Shah has reacted the angry outburst of Congress over EVMs. "How can a national party question the process of counting votes just a day before the process is to take place? Insulting EVMs is akin to insulting people of the country," he says. (Full report here)
* Congress renews accusations of bias against the Election Commission. Party spokesperson Abhishek Manu Singhvi says that the EC is acting on the directions of BJP.
The outburst comes shortly after EC rejected the demand from 22 opposition parties that VVPAT slips be verified on counting day. (Full report here)
* Security has been beefed up at counting centres across India.
* Newly elected MPs won't be put up in hotels but in state bhavans, Western Court and its annexe building, says Lok Sabha secretary general: PTI
* As per the EC ruling against the opposition parties the schedule for counting will be 8 am postal votes counting and from 8:30 am EVM votes counting. Trends will start by 9:30am, says Maharashtra CEO.
* Supreme Court granted protection from arrest till May 28 to BJP candidate from Barrackpore LS seat Arjun Singh, who is facing several cases. A Bench of Justice Arun Mishra and Justice MR Shah grants the five-day protection to Singh from arrest in cases registered against him by the West Bengal police.
* Madhya Pradesh: "Three-tier security present at EVM Strong Room. All counting agents, polling agents and candidates to be frisked before entering the area. Movement of EVMs and counting to be done under police presence and CCTV surveillance," Bhopal Collector S Khade told ANI.
Maharashtra: Security outside Shivadi counting centre ahead of counting of votes for #LokSabhaElections2019 tomorrow. pic.twitter.com/YjNB6raMeI — ANI (@ANI) May 22, 2019
Maharashtra: Security outside Shivadi counting centre ahead of counting of votes for #LokSabhaElections2019 tomorrow. pic.twitter.com/YjNB6raMeI — ANI (@ANI) May 22, 2019
* Prime Minister Narendra Modi Tuesday night held a meeting with top bureaucrats from key ministries, said sources. The PM is believed to have taken feedback on various issues. According to sources, the government has already asked all the ministries and departments to prepare their 100-day agenda. There was no official word about the agenda of the meeting, which comes ahead of the Lok Sabha election results on May 23: PTI
* In a series of tweet, Union Minister Smriti Irani writes, "24 hours to go .. while most of us will be glued to our TV sets tomorrow to watch vote by vote, count by count analysis, here's taking this opportunity to say thank you for the countless blessings of millions across the Nation for my party and my leadership
"We are all humbled to bear witness to the hard work, the perseverance and the selflessness of karyakartas who seek no post, no glory for self but are purely driven with a strong desire to build a New India— resilient, resurgent, committed to sabka saath, sabka vikas.
"We are conscious of the sacrifices made by the families of karyakartas especially in Kerala and West Bengal. No words will ever be enough to pay homage to those who died. However , the best tribute would be that every day we contribute constructively to Nation building.
"In the last 5 years not a day went by when Narendra Modi was not subjected to humiliation and hateful barbs by the opposition. However, as karyakartas we take pride that the citizens of the Nation stood by the PM through every endeavour , every initiative.
"This election was about the people versus the opposition. The people stood firm against the anarchists who screamed ' Bharat ke tukde honge'. It is to those citizens that I give my grateful thanks for they resolutely and unabashedly believed in 'Bharat' & her future."
24 hours to go .. while most of us will be glued to our TV sets tomorrow to watch vote by vote, count by count analysis, here's taking this opportunity to say thank you for the countless blessings of millions across the Nation for my party and my leadership — Chowkidar Smriti Z Irani (@smritiirani) May 22, 2019
* New Delhi: Traffic advisory issued to residents of Dwarka for counting day on May 23. "On counting day Road no 224 in front of IIIT, Sector 9, will be closed from 4 AM till the closure of counting, from Sector 8/9 Red light point to 19/20 Red light point. The Residents of Societies situated on both sides of this closed road are requested to carry their identity card/society related documents to gain access and exit from this blocked road. Inconvenience is regretted. All office bearers of MC/RWA are requested to place it on their respective notice board and circulate to concerned Whatsapp groups in Dwarka," ACP Dwarka said in a statement.
* Counting of votes for the 21 Lok Sabha seats and 146 Assembly segments in Odisha will be held at 63 different centres across the state amidst tight security on Thursday. Read more
* SC takes note of violence during Lok Sabha polls in West Bengal, agrees to hear the plea of BJP candidate Arjun Singh seeking protection from arrest. The top court will hear the plea at 12:30 pm today: PTI
* EC decision on Diamond Harbour re-polling today: CPI (M) general secretary Sitaram Yechury met all members of the EC and raised the issue of massive rigging in Diamond harbour by Trinamool Congress and demanded re-polling. He also told them about the issue of re-scrutiny the details of which had already given to them in the letters etc which he had send them. Yechury also raised the issue of the post-poll violence in Bhatpara.
*Polling underway at polling station number 200 in North Kolkata parliamentary constituency.
#WestBengal: Polling underway at polling station number 200 in North Kolkata parliamentary constituency. ECI had declared void the poll held on 19 May at the polling station. pic.twitter.com/w3C85wZ1eY — ANI (@ANI) May 22, 2019
* Punjab: Re-polling for Lok Sabha elections is currently underway at booth number 123 in Amritsar. The voters are being given 'certificate of appreciation' by the EC: ANI
* The Election Commission to meet in New Delhi to address the concerns raised by leaders of 22 opposition parties, who met the poll panel on Tuesday, voicing their concerns over Electronic Voting Machines (EVMs) and use of VVPATs.
*Om Prakash Rajbhar woes likely may grow. Three Suheldev Bharatiya Samaj Party legislators may to join BJP. A day after sacking Rajbhar, Uttar Pradesh Governor Ram Naik allocated his portfolio of Backward Welfare and Divyangjan empowerment to Minister of State (MoS) Anil Rajbhar on Tuesday.
* Samajwadi Party (SP) leader Azam Khan on Tuesday said that if he does not win by over three lakh votes in Rampur, his parliamentary constituency, it means that the election was not held in a free and fair manner across India. Read more
* EC tweets:
A dedicated 24 hour control room has been set up to respond to any complaints related to EVM. You can call at 011 23052123. #ITrustEVM pic.twitter.com/RGKFEnN9fC — Election Commission #DeshKaMahatyohar (@ECISVEEP) May 22, 2019
* West Bengal: On counting day, Kolkata Police will deploy 4000 security personnel in the state capital. Two hundred companies of central forces have also been deployed inside counting centres. The joint forces will remain active in order to curb any violence. Sensitive areas are also under surveillance. Kolkata armed police along with city police will be posted outside the main gate of the counting centre. Counting of votes will take place at 13 locations in Kolkata.
* Punjab: Polling is underway at Amritsar constituency's "Polling Booth No. 123" of Rajasansi assembly constituency. The Election Commission of India ordered the re-poll on Monday. Voting will continue from 7 am to 6 pm.
* West Bengal: Re-polling underway at Kolkata Uttar constituency at Booth No. 200. The EC had declared void the poll held on May 19 at the polling station.
* UPA chairperson Sonia Gandhi has called a meeting of senior Congress leaders on May 22, a day before counting of votes, to discuss post-poll strategies. All senior leaders, General Secretaries and party 'in-charges' has been called in. Another meeting is likely to be held on May 23. According to sources, a team of four leaders has been set up who'll reach out to non-NDA parties to built a united front.
* Continuing his efforts to mobilise opposition parties to forge a non-NDA front, Andhra Pradesh Chief Minister and Telugu Desam Party (TDP) leader Chandrababu Naidu Tuesday met former prime minister and Janata Dal (Secular) supremo H D Deve Gowda in Karnataka's Bengaluru. The meeting lasted for more than one and half hours. Read more
* Law Minister Ravi Shankar Prasad on Tuesday slammed opposition parties for raising questions over the credibility of Electronic Voting Machines (EVMs) and said that the opposition must accept defeat with grace if Narendra Modi gets the mandate to become prime minister again. Read more
Live Tv