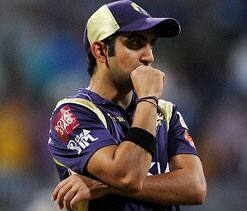 Biswajit Jha
There is hardly any doubt that Chennai Super Kings have been the best team in the Indian Premier League (IPL) since the cash-rich league started its journey five years back. They have won two consecutive IPL titles and are just a game away from making it three in a row. With level-headed MS Dhoni at the helm, Chennai Super Kings have the best man to lead them in such a crunch game. He led India to Two World Cup titles, captained Chennai to Champions League title apart from two IPL trophies. Having tasted enormous success as captain, Dhoni knows what it takes to come up with the final punch.
Also Read: Men behind KKR's successful journey this year…» I Trump cards for CSK in the final» I Last three standing » I Sunil Narine: Kolkata's mystery man» I IPL 5 in Pics » I IPL Controversies » I Two matches, two new heroes » I IPL Centurions » I Top performers of IPL 5 » I How Gambhir can stop CSK juggernaut» I Why is Gautam 'Gambhir' about winning IPL 5?»
Know Your Teams: Kolkata Knight Riders» I Chennai Super Kings»
Out of five IPL, this will be CSK's fourth appearance in the summit clash where they are expected to face a stiff challenge from a rejuvenated Gautam Gambhir-led Kolkata Knight Riders, who have made it to the final for the first time.
Can KKR stop Chennai from a hat-trick of IPL titles? Despite having a formidable outfit, KKR will have to fight against a team, a captain and history to win their maiden IPL crown.
Zeenews.com's Sports Team comes up with some strategies for KKR skipper Gautam Gambhir which can help him stop the amazing run of Chennai Super Kings:
Bat first:
If Gautam Gambhir wins the toss in the final, he should adhere to W G Grace's wisdom of batting first. Especially on turning Chennai track, batting first could be the only way to put CSK under pressure. Another reason for that would be KKR's over dependence on spin bowling. If they put up more than 150, the spin quartet of Sunil Narine, Iqbal Abdullah, Shakib Al Hasan and Yusuf Pathan could then pounce on Chennai batting line up. Plus, Rajat Bhatia's military medium pace can be handy on a slow and low Chennai pitch in the second innings.
Use Sunil Narine more judiciously:
If Kolkata Knight Riders have to win, Sunil Narine has to play an important role. It's the West Indian bowler, who has almost single-handedly led KKR to the final. There has hardly been any batsman in the entire IPL who has handled the mystery spinner properly. So, Gambhir has to use Narine very intelligently. Better keep him for the final overs to counter Chennai's power-packed middle and lower middle-order comprising of Dhoni, Bravo and Morkel.
Greater Role for Shakib Al Hasan:
Kolkata must not only include Shakib in the final XI, but his bowling and batting skills must be utilized in a better manner. If there has been any flaw in Gambhir's strategy, it would be of not handling Shakib well. Out of the 16 matches KKR played this year, the Bangladeshi all-rounder has taken part in just 7 matches. One of the premier all-rounders of the world, Shakib can be a vital cog in Gambhir's strategy for the final. He can bat anywhere in the batting order and can bowl at any situation. He can attack from the word go as well as drop anchor while batting. As a bowler, he can take wickets and at the same time strangle batsmen for runs. Gambhir can surprise the oppositions by using Shakib as surprise weapon wherever he feels.
Start with pace and get top three early:
Since Murali Vijay, Mike Hussey and Suresh Raina play spin well, Gambhir can rethink his strategy of start with a spinner. For a change, KKR can start with both their pacers-Jaques Kallis and L Balaji. Hussey may be well equipped in handling pace attack, but Vijay and Raina's shortcomings with the short balls can be utilized by the bowlers.
Replace McCullum with Kallis as an opener:
Like bowling, Kallis can replace McCullum as the opening partner of Gambhir. Since McCullum has not been in his usual attacking self, it's best to open with Kallis who will play a perfect second fiddle to the rampaging Gambhir. McCullum should rather come down the order and play his natural game. It would give more stability at the top and help the middle-order to go for the kill at the death overs.
Surprise the opposition by shuffling the batting order:
Like opening pair, Gambhir can surprise CSK by changing their usual batting positions. He can promote either struggling Yusuf Pathan or promising Debabrata Das or Laxmi Ratan Shukla up the order to give KKR's innings a huge momentum.
Melt Dhoni's coolness with some heat:
It's MS Dhoni's cool head that ultimately seals the deal for Chennai Super Kings in crucial matches. Dhoni remained nonchalant even when Chennai Super Kings were not playing well this year. He is that kind of a guy who is very difficult to sledged against or get agitated. Gambhir, a hardcore critic of Dhoni's brand of captaincy, has to come up with some tactics to unsettle MSD. Maybe a few words with his former KKR captain Ganguly can help Gambhir!