Uttar Pradesh Lok Sabha election results 2019 live updates: BJP+ wins 64 seats, Mahagatbandhan 15, Congress 1
Narendra Modi has broken his own record of the 2014 election and won the Varanasi Lok Sabha seat by a margin of over 4,70,000 votes. Rahul Gandhi has conceded defeat in Amethi, which he has lost to Smriti Irani.
The Bharatiya Janata Party (BJP) has recorded a landslide victory in 2019 Uttar Pradesh Lok Sabha election. The Samajwadi Party-Bahujan Samaj Party-Rashtriya Lok Dal Mahagathbandhan failed to halt the Modi juggernaut, as Modi came back to power with a resounding victory margin. Congress suffered the biggest setback with party chief Rahul Gandhi losing the Amethi Lok Sabha constituency to BJP's Smriti Irani after a long neck-and-neck battle.
BJP-led NDA wins massive majority at the Centre. (Live updates here)
The Lok Sabha election 2019 in Uttar Pradesh was held in all seven phases from 11 April to 19 May. The estimated turnout in the state was 59.60 per cent, which is likely to be the highest ever in the state in Lok Sabha elections so far. The total number of electors this year increased by 3.96 per cent since the previous election with a total of 14,43,16,893 electors who were eligible to cast their votes in 2019. (Read full list of Uttar Pradesh Lok Sabha Election 2019 winners)
Stay with Zee News for live updates:
# The final results are out in Uttar Pradesh! The final tally in the state as declared by the Election Commission is 62 for BJP, 2 for Apna Dal taking the NDA toll to 64. Ten for BSP, 5 for Samajwadi Party and one for Congress!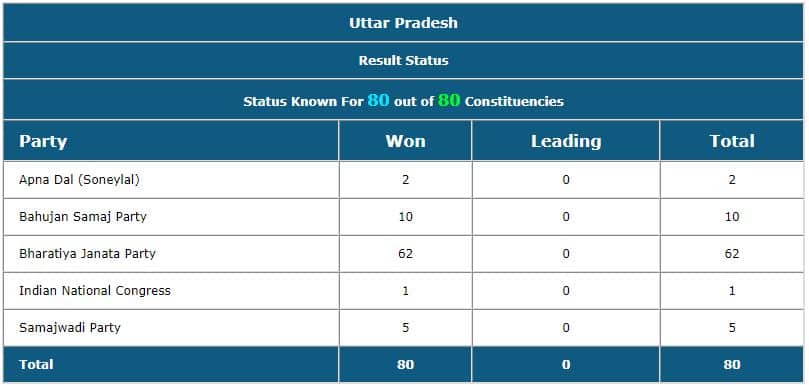 # Sources say that UP Congress chief Raj Babbar had tendered his resignation to chief Rahul Gandhi after the party suffered a massive defeat in the state.
# Smriti Irani who defeated Rahul Gandhi in Amethi with a margin of 55,120 votes, on Friday thanked the people of the constituency for trusting her.
__ ___ ____ _____ __ ___ , __ ___ _______ _______ _____ ___ __ ___ _ ____ _____ __ _______ _____, ___ __ ___ _______ _____ __ ____ #PhirEkBaarModiSarkaar #VijayiBharat — Smriti Z Irani (@smritiirani) May 24, 2019
# The Election Commission has officially declared wins in 77 seats so far. As per the official data, BJP has won 62 seats, while ally Apna Dal has won 2 seats taking the NDA tally up to 64. The BSP has won 10 seats while the SP has won 5 seats, bringing the Mahagatbandhan tally up to 15. The Congress managed to win just one seat - Sonia Gandhi's Rae Bareli.
Welcome back to the live updates of Lok Sabha election results 2019.
THANKS FOR JOINING US ON ZEE NEWS FOR LOK SABHA ELECTION RESULTS 2019 LIVE UPDATES. DO COME AGAIN AT 6 AM ON FRIDAY.
# As Smriti Irani takes a decisive lead in Amethi, she took to Twitter to state that nothing is impossible.
कौन कहता है आसमां में सुराख नहीं हो सकता ... — Smriti Z Irani (@smritiirani) May 23, 2019
# Congress General Secretary for UP east, Priyanka Gandhi Vadra also accepted the people's verdict and congratulated PM Modi and BJP workers.
# Rahul Gandhi concedes defeat in Amethi, congratulates Smriti Irani. "She has won from the seat, I congratulate her for the same. The people of Amethi have expressed their faith in her and I hope she won't disappoint them," he said while addressing a press conference.
# First result declared in Uttar Pradesh; Bahraich seat goes to BJP. BJP's Akshaibar Lal has defeated his nearest rival Samajwadi Party's Shabbir Balmiki by 1,28,752 votes.
# LK Advani wishes Narendra Modi for BJP's win: "Heartiest congratulations to Shri Narendrabhai Modi for steering the BJP towards this unprecedented victory in the elections. Shri Amitbhai Shah as the BJP President and all the dedicated workers of the party have put in enormous effort in making sure that the message of BJP reaches every voter of the country. It is such a wonderful feeling that in a country as large and diverse as India, the electoral process has been so successfully completed and for that, my compliments to the electorate and all the agencies involved. May our great nation be blessed with a bright future ahead."
# Narendra Modi has broken his own record of the 2014 election when he won the Varanasi seat by a margin of 371784 votes. Modi is currently leading by a margin of 409725 votes.
# UP Chief Minister Yogi Adityanath after the BJP's win: I want to congratulate Prime Minister Modi for this victory. BJP has touched the 300-mark for the first time and NDA is touching 350. I also congratulate the party president Amit Shah.
# Union minister Maneka Gandhi is engaged in a see-saw battle in Sultanpur seat. After trailing for several rounds, she is ahead of BSP's Chandra Bhadra Singh "Sonu" by over 12,000 votes. BJP is also leading in Gorakhpur and Phulpur, where it was unseated by the opposition in last year's bypolls.
# India wins yet again! Modi tweets after BJP's landslide victory in Lok Sabha election 2019. "Together we grow. Together we prosper. Together we will build a strong and inclusive India," he tweeted.
सबका साथ + सबका विकास + सबका विश्वास = विजयी भारत

Together we grow.

Together we prosper.

Together we will build a strong and inclusive India.

India wins yet again! #VijayiBharat — Chowkidar Narendra Modi (@narendramodi) May 23, 2019
# As per the official trends by the Election Commission at 2:30 pm, BJP is leading in 59 seats, Apna Dal in 2 seats, Bahujan Samaj Party in 12, Samajwadi Party in 6, Congress in 1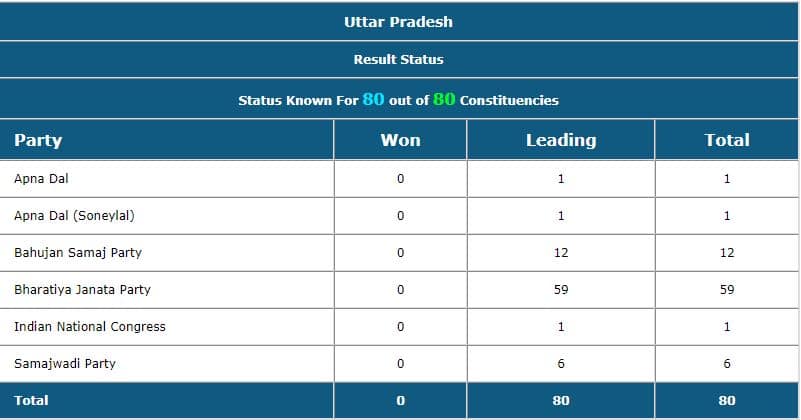 # Celebrations are on at BJP headquarters across the country and in Uttar Pradesh too. People were seen cheering to the slogans of 'Modi once again', 'Har Har Modi' and 'Vande Mataram'.
# BJP Parliamentary board meeting will be held later on Thursday. PM Modi will be meeting BJP workers at the party office at 5.30 pm today.
# Big names which are trailing in UP by a significant margin: BJP's Manoj Sinha from Ghazipur, Congress's Raj Babbar from Fatehpur Sikri, BJP's Dinesh Lal Yadav Nirahua from Azamgarh, SP's Akshay Yadav from Firozabad, SP's Poonam Shatrughan Sinha from Lucknow.
# BJP's Maneka Gandhi is trailing in Sultanpur after Bahujan Samaj Party's Chandra Babu Singh takes the lead by 4800 votes.
# It's a topsy-turvy battle in Amethi Lok Sabha constituency! Smriti Irani has yet again taken the lead against Rahul Gandhi. She is leading by a margin of 1900 votes.
# Home Minister Rajnath Singh is leading in Lucknow by over 29000 votes against SP's Poonam Sinha, Hema Malini is leading in Mathura by over 13000 votes against Rashtriya Lok Dal's Narendra Singh. Rahul Gandhi has taken a slight lead against Smriti Irani by over 1700 votes.
# Akhilesh Yadav is leading against BJP's Dinesh Lal Yadav Nirahua in Azamgarh by over 3000 votes. Jaya Prada has taken a lead against Azam Khan in Rampur by over 1700 votes.
# BJP is maintaining its lead in Uttar Pradesh Lok Sabha election results. The saffron party is leading in 47 seats, Mahagathbandhan in 11 and Congress in 1 seat.
# Mohammad Azam Khan is leading against Jaya Prada from Rampur. Samajwadi Party founder Mulayam Singh Yadav is leading in Mainpuri.
# Meanwhile, BJP led NDA has crossed the halfway mark! The Modi led coalition is leading in 272 of 542 seats. Read more details here
# Of the trends in 50 out of 80 seats at 9 am, BJP is leading in 41 seats, Mahagathbandhan in 8, and Congress in 1 seat.
# BJP is leading in 32 of 80 seats while Mahagathbandhan is leading in 7 seats. Congress is just leading one seat at 8:45 am. Congress chief Rahul Gandhi is trailing from Amethi Lok Sabha constituency.
# UPA chief Sonia Gandhi is leading from Rae Bareli Lok Sabha constituency while Samajwadi Party chief Akhilesh Yadav is leading from Azamgarh. BJP's Manoj Tiwari is leading from Adityanath's home turf Gorakhpur.
# The initial trends have started to come in! And the first candidate to take the lead in Uttar Pradesh is Narendra Modi who is leading from the Varanasi Lok Sabha constituency. Home Minister Rajnath Singh is also leading from the Lucknow Lok Sabha seat.
# Counting begins for all 80 constituencies in Uttar Pradesh. The trends of who is leading and who is trailing will be available at regular intervals. However, results will be declared only after approval from the Election Commission.
# It's a prestige battle for the BJP in Gorakhpur as it was represented by Yogi Adityanath in Lok Sabha from 1998 to 2017, before he became the Uttar Pradesh Chief Minister. However, the BJP had lost in the bypolls in Gorakhpur Lok Sabha constituency in 2018.
Actor Ravi Kishan, who is fighting on Gorakhpur Lok Sabha seat, offers prayers as #ElectionResults2019 will be announced today; counting of votes for #LokSabhaElections2019 to begin at 8 am. pic.twitter.com/b1d38nuq02

— ANI UP (@ANINewsUP) May 23, 2019
# Samajwadi Party chief Akhilesh Yadav tweeted a picture with his team and exuded the confidence of Mahagatbandhan winning the Lok Sabha election 2019 in Uttar Pradesh.
__ __ ______ ____, _____ __ ____ ______ ___ ______ _________ __ _______ __ ____ '_______ _____' __ ___________! ______ ____ __ _______ _____ pic.twitter.com/37AF80Sipp — Akhilesh Yadav (@yadavakhilesh) May 22, 2019
# Watch live streaming of Lok Sabha election result 2019 of 80 seats in Uttar Pradesh on mobile, desktop on Zee News.
# While there was a Modi wave in the 2014 election, the exit polls in 2019 reflect the uncertainty in the dynamics of the state that could emerge when the final results are announced on 23 May. The key players in the state are Bharatiya Janata Party; the Bahujan Samaj Party-Samajwadi Party-Rashtriya Lok Dal alliance; and the Congress.
Live Tv