New Delhi: NASA's New Horizons spacecraft has delivered yet another dramatic image showing the dark, rugged highlands known as Krun Macula, which border a section of Pluto's icy plains.
Krun Macula rises 1.5 miles (2.5 kilometers) above the surrounding plain - informally named Sputnik Planum - and is scarred by clusters of connected, roughly circular pits that typically reach between 5 and 8 miles (8 and 13 kilometers) across, and up to 1.5 miles (2.5 kilometers) deep, as per NASA.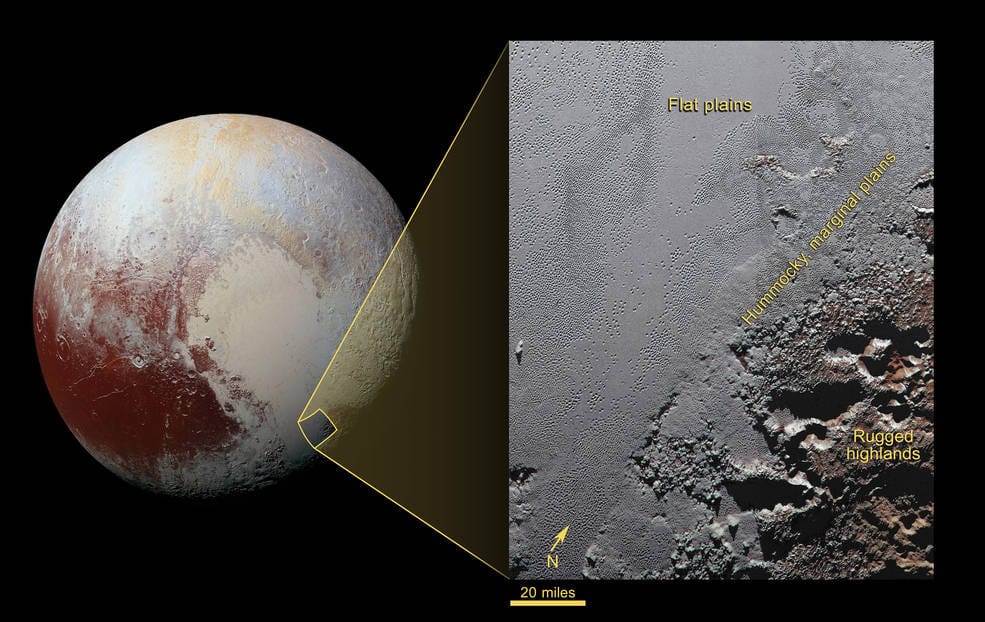 Scientists behind the mission created the scene using three separate observations made by New Horizons in July 2015.
The right half of the image is composed of 260 feet- (80 meter-) per-pixel data from the Long Range Reconnaissance Imager (LORRI), obtained at 9,850 miles (15,850 kilometers) from Pluto, about 23 minutes before New Horizons' closest approach. The left half is composed of 410 feet- (125 meter-) per-pixel LORRI data, obtained about six minutes earlier, with New Horizons 15,470 miles (24,900 kilometers) from Pluto.
These data respectively represent portions of the highest- and second-highest-resolution observations obtained by New Horizons in the Pluto system. The entire scene was then colorized using 2,230 feet- (680 meter-) per-pixel data from New Horizons' Ralph/Multispectral Visual Imaging Camera (MVIC), obtained at 21,100 miles (33,900 kilometers) from Pluto, about 45 minutes before closest approach.
New Horizons mission, launched on January 19, 2006, swung past Jupiter for a gravity boost and scientific studies making its closet approach in February 2007.
On July 14, 2015, New Horizons flew 12,500 km (7,800 mi) above the surface of Pluto, making it the first spacecraft to explore the dwarf planet. Having completed its flyby of Pluto, the spacecraft is expected to head farther into the Kuiper Belt to examine another of the ancient, icy mini-worlds in that vast region, at least a billion miles beyond Neptune's orbit.